surya's (& her husband's) excellent adventure to the 4 corners
(but not square)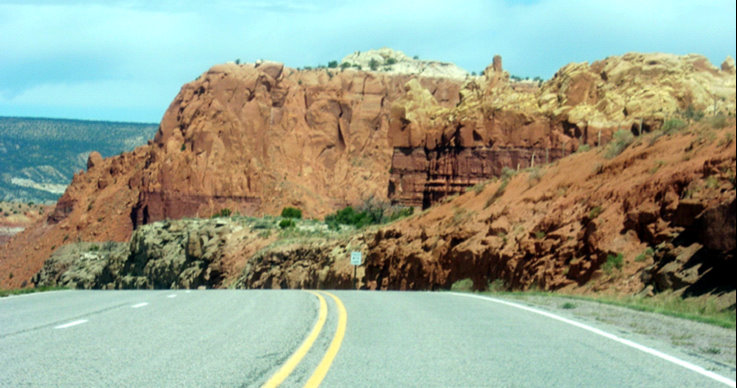 june, 13, 2009
the american southwest
i'm lying face-up on a hard redwood picnic table, about 10 miles southeast of durango, colorado, staring straight up at the big sky through the towering green ponderosa pines. i'm looking for something, but i don't know what. the clouds are moving so fast overhead that rain threatens every 5 minutes or so. in between the dark gray celestial galleons, the hot sun burns down strong enough for me to bare my soul, i mean, my chest. i'm at the zenith of our hard-driving toyota matrix' 12 day roooaaad trip across john ford's amurhican west. we're covering 2500 miles in less than two weeks, gobbling up places like flagstaff, red-rock sedona, santa fe, espanola, taos, durango, mesa verde, mexican hat, monument valley, natural bridges, glen canyon, boulder (utah), hanksville, bryce and zion.....
ok, ok, stop right there, you say. why read another travel story about america's southwest? been there, done that, right? you've seen the grand canyon, been to santa fe and taos, bryce and zion... i know most of you well-traveled hipsters have. but just in case you haven't, or just in case you've missed some of the places i mentioned above, or just in case you want to vicariously re-live your own road trip of how many years ago, or just in case you want to see some well-earned photos, well then, read on........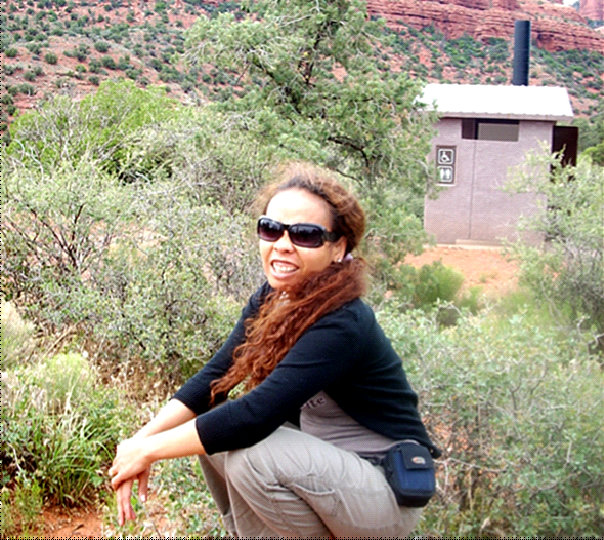 it all started 8 years ago, august 3rd, 2001, when my lovely wife to be, surya, came to live with me in lala land from far away bali, indonesia. we'd met there, entirely by accident, in the summer of 2000, and after a month-long christmas return visit by me, and a long-winded and corrupt passport and visa struggle, she came here bright eyed and bushy-tailed from the sweltering and humid rain forests of sumatra. we went to borneo and kuala lumpur, malaysia, for 8 months in 2002, where we soon discovered her apparent aversion for switch-backing mountain roads that usually ended up with her own roadside activity and her stated resistance to any long road trips over 2-3 hours in length. especially in dem dere hills.
well, after 8 years, a few more trips to south america, china, and new yawk, and now approaching her 31st birthday, the young wife has finally relented and said, "i'm ready." my theory is if she actually does the driving herself, it will convert the road sickness into curiosity, concentration, and pleasure. and if i'm honest with myself, perhaps i'm looking forward to this trip for my own reasons, although i don't know exactly what they are. but this will be my first trip to the 4 corners in about 40 years. i last drove cross country when i too, was bright eyed and bushy-tailed, back in the early 70s, back in my early 20s, when i was sweating every day of my life, trying to become a modern dancer. now i've already "pushed" 60, and i'm looking down the road at my third and final act. perhaps there's some wisdom in dem dere hills for me too. maybe this adventure is for both of us, surya and her husband.....
we have a couple of places to stay with old friends, one near espanola, new mexico, in between santa fe and taos near the san juan indian reservation, and another outside of durango, colorado, near bayfield, on a horse-breeding farm/ranch in the rolling green hills; plus, we're taking clay, the dog, our husky-shepherd of 10 years, who is both a trouble maker and a joy, and who we love unconditionally. let's see........
we leave bright and early on a sunday morning. surya has grabbed just 5 hours of sleep after her saturday night china town bartending gig and she's a little cranky. LA is sleeping under its annual june carpet of fog. i wonder how she'll take to the red rock high desert aridity of arizona and new mexico, such a meteorological contrast to the humid rain forests of equatorial indonesia.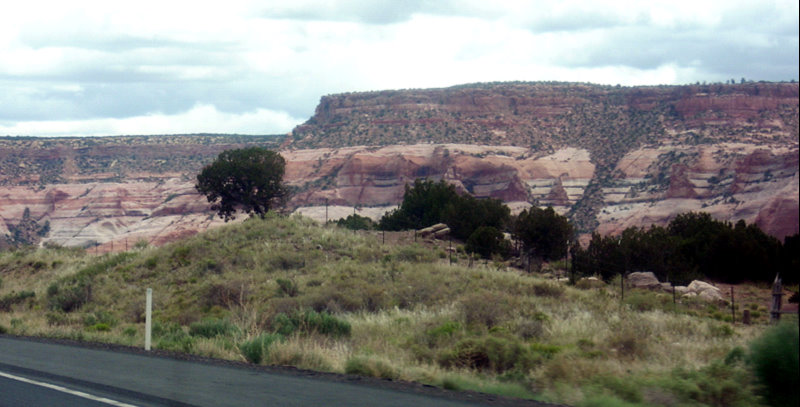 we drive a long way the first day. it's 465 miles between LA and flagstaff, arizona. that's about 7 hours, i figure, averaging 70 miles per hour, without the requisite stops for food, gas, and diversion. but it's a relatively straight climb into the thin air of the rockies at 8000 feet. i figure we'll test her endurance first before we get into the mountainous curves themselves. the lovely wife does half the driving, we stop whenever she's hungry, and by 5 o'clock we arrive – at the motel 6. that's right, no luxuries for us. we're from indie hollywood. we intend to leave it all on the road. you know, put it all on the screen, no frills, low budget, no stars, cut corners... never mind. the only problem is that the discount motel 6 rate comes within 200 yards of train track, which "management" informs us will have diesel-burning traffic with loud blaring horns about 200 times a night. "would you like to purchase ear plugs? $4.99 a pair." "uh... no thanks, is there another motel 6 in town?" "you bet," says the smiling manager, "but they don't match our rates." "that's ok," i say, "i'm sure we can make up the difference by what we save in ear plugs". so we drive to the "other" motel 6, along old route 66, through historic flagstaff, which is quite charming, don'tcha know? we check out the old, but beautifully restored, hotel weatherford, right on main street (oops, that's leroux street), with its zane gray ballroom. now let it be known that i'm a sucker for any and all cowboy history and/or memorabilia, and gray, although the son of an ohio dentist, and a dentist himself, was renowned for his early 20th century fiction that idealized the rugged old west. "western legends", "tonto basin", "arizona clan", i never read a one of his books, but i do remember the old "zane gray theater" on tv when i was a kid. along with palladin, lash la rue, and gabby hayes, gray was high on my all time cowboy list. so much so that years later, when i was locked up for reckless driving in deadwood, south dakota, in 1970, by sheriff deadwood dick mcgraff, it was both a dream come true and a nightmare for me, as i was put in a cell with the menacing and scowling "el feo", a mountainous indian man accused of disorderly conduct and disobeying the peace. i jumped bail and never came back for trial to deadwood, but hell, it was probably as close to cowboy heaven that this new yawk jew boy will no doubt ever get. (http://www.etravelswithetrules.com/unitedstates/deadwood/index.html)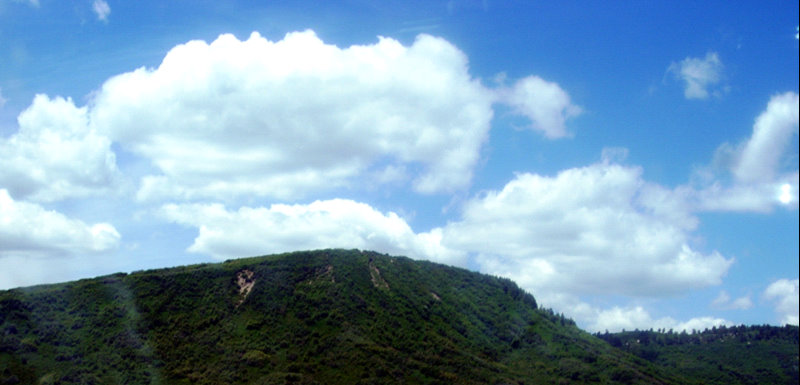 and now here i am, outside of durango, colorado, lying on a hard redwood picnic table, staring up at the big, four corners sky, communing with nature and wondering how i'm doing. in life. i'm having cowboy fantasy flashbacks. i'm floating above myself in one of those big cowboy cumulus clouds, remembering the rollicking rodeo rider on his wild bucking bronc in the mural on my bad-ass yellow wall in my old childhood bedroom in westbury, long island. i'm looking down on myself, back into history. wasn't there an old tv cowboy called "the durango kid?" or a b-movie cowboy villain of the same name? yeah, the bad guy on the big screen or in one of those saturday morning shoot'em-up westerns. he wore the black shirt, the black scarf from his chin to his eyes, rode the white horse. the point is, he was baaaaad! palladin bad. no hopalong cassidy, roy rogers, or gene autry, lilly-white sing-along cowboy, he. the "kid" was someone you could root for. a villain with heart... and a back story. like me, lying here on the picnic table, getting lost in the clouds, while da wife and old dancer friend, deana, go happily hiking up the mountain trail. me? i'm "the durango...", well, maybe not "kid" any more, but more like the sadder but wiser, "old man", the lazy bad ass who doesn't "do" hiking. i'm the ageing geezer who's spent his life outside the conventions and expectations of society, the dancer, clown, poet, bohemian beater of his own bongo... who still goes out into the desert, the jungle, the unknown... no plans... just heads off in what feels like the right direction, and sees what kind of trouble he can get into. ok... maybe these days with wife, dog, and toyota matrix. anyway...
after a swim in the heated motel 6 pool and a good night's sleep (yup, motel 6es do have heated pools and don'tcha know, there's never a charge for pets!), we get up bright and early to attack the grand canyon. i remember the last time i visited the great crater, i'd driven up from williams, north on routes 64 and 180. this time, we approach her from flagstaff, driving northwest directly on 180. there's hardly a car on the scenic, pine painted, 2 lane highway; and it's early june. i'm wondering if we're heading the right way. but after about an hour, we join the modest cue of campers, cars, and rvs, and we stop off at the visitor center to buy our annual pass to all the national parks. shit, if it was just 2 months later, i'd qualify for the lifetime 10 dollar "senior" pass. i have to admit, i'm a little put off by the offer. i can't tell if i'm pleased or pissed off!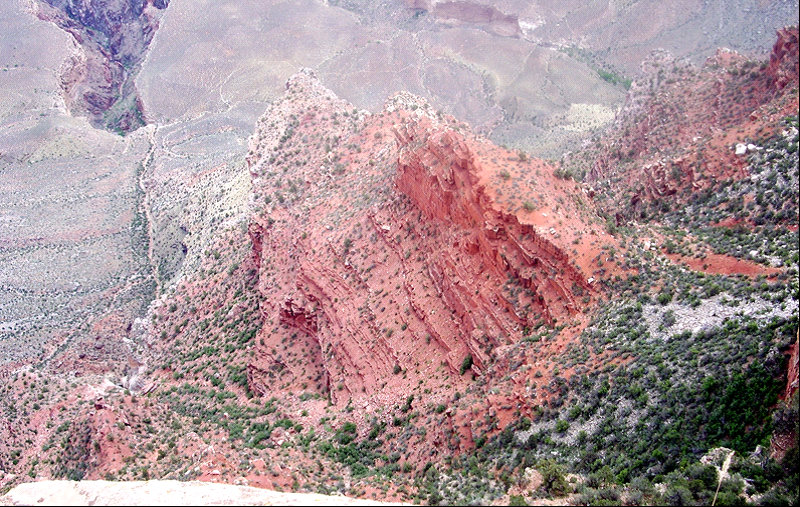 it doesn't take long to wind our way along the south rim. surya and clay have never seen the gaping canyon before. they're excited. we park and get out of the car... and there, sure enough, she is. la guapa of all canyons. if she's not the biggest natural hole on earth, she's certainly the most beautiful. wide, sprawling, seductive and overwhelming. as both locals and visitors say in their own ways, about the creation and existence of the canyon, "god must have been doing (smoking) something right the day he made this thing." you already know, or can imagine, that the rim goes on for hundreds of miles, so... after our requisite photos ops, we drive onto mather point and grand canyon village, the original tourist trap developed at the turn of the 20th century.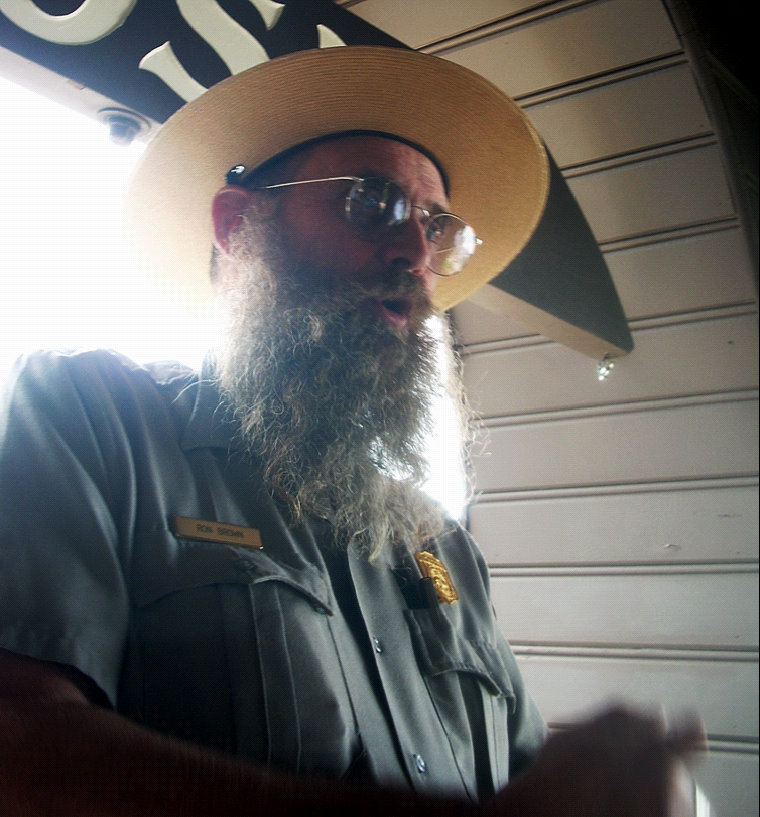 there, bearded and animated "ranger ron" tells us the story of the canyon: how conquistador francisco vasquez de coronado sent able caption garcia lopez de cardenas down into the anasazi cave and pueblo-dwelling canyon in 1540 to see if it was useful to the weapon and disease-laden spanish. cardenas quickly reported that the canyon presented an "insurmountable barrier"... which immediately squelched all interest in the area for the next two hundred years... until such adventurous visionaries with names like powell, lee, dutton, and bass all had the collective foresight to realize that the canyon could eventually be developed into the mutha of all parks... whereby they forged stagecoach and railroad lines from williams and flagstaff to the south rim in the early 1900s, and shortly thereafter built the stately "el tovar" hotel in 1905, eventually overloading the canyon with endless camp sites, hiking trails, and overlooks, not to mention, but mentioning, such other fast-growing tourist and naturalist attractions as the hopi house, the kachina lodge, many mule and kayak trips down into the canyon, along with various and other sundry sites and activities which far-seeing and hungry entrepreneurial merchants could eventually develop into the successful visa and master card-devouring monsters that now occupy the canyon.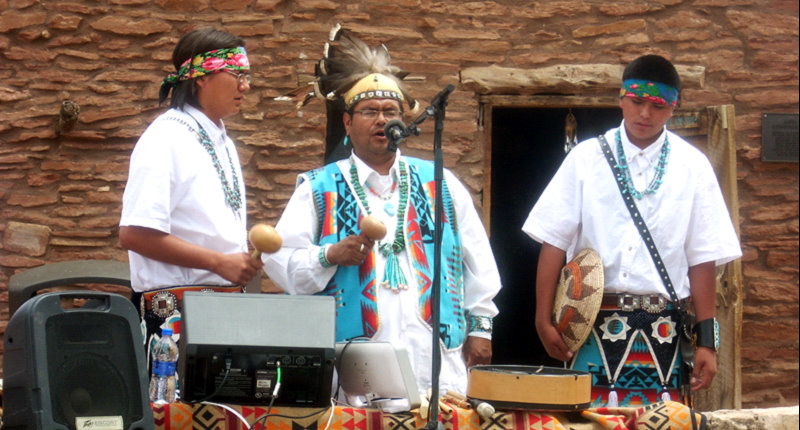 i know, i know, i'm more than a little cynical about our greatest of national parks. just shut up, enjoy, and celebrate, right? but come on, i'm not complaining about her beauty or magnificence. just her overt commercialism. but... who am i to say? really? we only stay there for half a day, listening to ranger ron, seeing the well-oiled hopi song and dance routine, and never even attempting to climb down into the canyon herself. "3 hours down means 6 hours up." that was the scoop from ranger ron. so we saved it, and ourselves, for another day, and instead, high-tailed it back to flagstaff for our, also rapid-fire, afternoon mini-visit of sedona. maybe the mythic red rocks will reveal what i'm looking for in their sunset glow....
south on alternate route 89, flagstaff to sedona, the lovely and scenic 1 hour drive along the red rock canyons of oak creek. "rising high above the city, the 'mongollon rim', a 2000 fort escarpment formed from ancient deposits of limestone, mudstone, and sandstone when the area was the west coast of a still-emerging continent, the awesome rim serves as the southwestern boundary of the vast 'colorado plateau', which extends into 5 other states and includes the rugged red rock canyons of the '4 corners' and the largest continuous stand of ponderosa pines in the world." i let the wife drive. it's our first real test of her mountain motion sickness. i'm hoping that the spectacular red rock beauty, and the concentration that the winding roads demand will distract her body and mind enough to erase her memories of bukit fraser (fraser's hill northwest of kuala lumpur) and mount kinabalu in northeast borneo. it's late afternoon, and the red rock monoliths are lit up like the 4th of july: "coffeepot", "cathedral" and "chimney" rocks. "teacup", "broken arrow", "mystic"... one glorious red rock peak after another. no complaints from the mrs. "doesn't look much like indonesia?", i smile. she'd smile back, i'm sure, except her mouth is set in the tight grimace of road concentration. good news, i presume.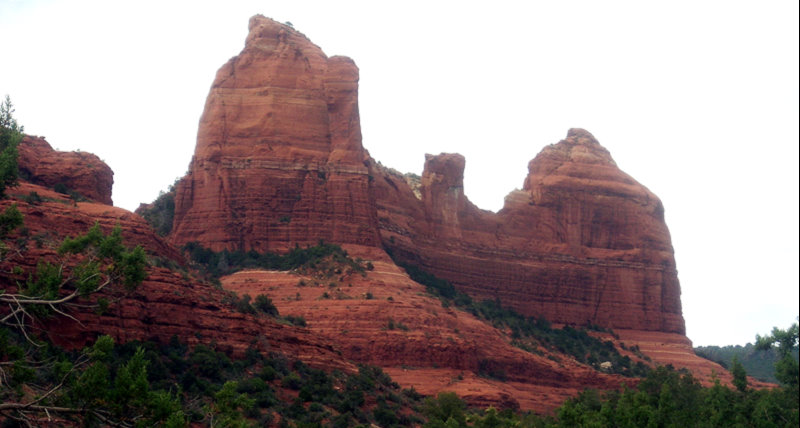 "the knottster", our hip LA poet friend and former sedona-living attorney for chogyam trungpa rimpoche, the 60s and 70s buddhist guru or sexual predator (depending on your point of view), has given us a "points of interest" heads up. we don't have enough time to take his journey to cottonwood, clarkdale, and jerome, through the old mining towns and prehistoric indian ruins, but we do manage to see airport mesa for the scenic overview of the entire town, as well as climb "schnebley hill road and vista", up the old cow trail named after "sedona" schnebley, the namesake of the picaresque town. of course, we have to include a shopping detour to satisfy the wife, so we take in tlaquepaque, the open air, mexican style shopping plaza, named for a suburb of mexico's "queen city", guadalajara. its graceful arches, shady verandas, and commercial blend of nature and architecture must be a little too much for us, because we have our first and only fight of the trip here. actually, it's my fault, i guess; i took too much time asking about hot air balloon rides and off-road, jeep/ATM half day tours that i knew full well we simply didn't have the time for. what i didn't know was that da wife was hungry, and what can i say? we all get a little edgy when the stomach starts to growl. but did she actually say anything to me? give me a sign while i was gabbing away? a pleasant signal, a little tap of the wrist (indicating time)? nooooooo. only a tongue lashing when i finally finished... which, of course, ruined the rest of our sedona honeymoon, and most of the ride back to flagstaff to boot.
somehow, maybe with the 8 years of partnership and the shortening of old stubborn patterns, we manage to recover by evening, and the next day, bright and early, we're ready to hit the road again. this time it's the long haul, flagstaff to espanola, the drug and crime capital of new mexico, half way between santa fe and taos. actually, we're going to visit bette and len, our former hollywood friends, who have now cashed in their chips and bought a fine little farm right on the rio grand just outside the san juan pueblo about 5 miles north of espanola. they say you can still find discarded hypodermic needles on the dirt roads of the reservation, but all clay and we see is – green.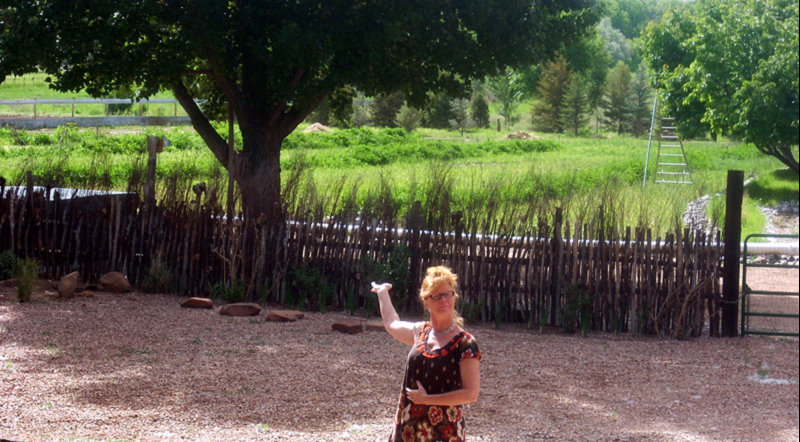 that's bette above, welcoming us to her farm-compound in el guique, about 5 minutes from the san juan pueblo. it's a little hard to find, as directions are counted off more in miles on the odometer and in number of speed bumps on the dirt roads than in actual road signs. we get lost crossing the rio grand a few too many times, because cell phone reception out here is pretty iffy, depending on what peak or valley you're driving through, but eventually we pull into the perfectly-manicured gravel driveway. we're greeted by bette and len and their enthusiastic hound, rio. clay is the first out of the matrix, and although he's been a damn patient and well behaved car-mate so far, he's more than happy to get lost on the farm for the next 4 days with rio. it seems like love at first site. one new mexican farm and two hound dawgs.
now bette is one of the most creative dames i've ever known. she used to work as a costumer at the public theater in new york in the late 70s, during which time she found extra time to design and make costumes for my clown company. lots of stripes and polka dots, lots of elephant size pants and size 34 shoes. before costuming, she was a dancer and a potter, and she moved to LA in the early 80s to become a successful costume designer for da movies. remember michelle pfeiffer in that sexy red dress on top of the baby grand? well, that was bette. now she's working more than ever out here in new mexico because of all the hollywood production in albuquerque, and she tells us she's "just seen jackie chan in his underwear" on her last job. len was in makeup his whole life, growing up in hollywood and coming from a line of makeup men, and now the two of them have followed their bliss and ended up in el guigue. on a farm irrigated by the rio grand. growing hay and vegetables, plowing the fields with two tractors, raising turkeys, and spending their free time making new friends in santa fe and taos, two of the most art-savvy towns in america.
bette's made up the bed in the half-outdoor sun porch for our conjugal bliss, but the first night it pours slabs of rain all night long. surya has no trouble weathering the storm, snuggled under layers of down, but i decide to drag my soggy and flu-fearing ass into the living room at 3 in the morning to sleep on the adobe couch. i wake up with what looks like a navajo blanket on top of me, thanks to bette i presume, and the roosters wake everyone else up about an hour before dawn. much to my chagrin, after driving 1400 miles, i'm totally worn out after my first night's "sleep". it's more like i'm trying to work things out, find answers, in my dreams... or more accurately, in my nightmares...
no excuses though, we're off to taos by the high back road by 10. through scenic chamayo and truchas, where indigenous catholics, in the former, and a hardy enclave of spartan-living artists from all over the planet, in the latter, have figured out a way to survive off the year-round tourist trade.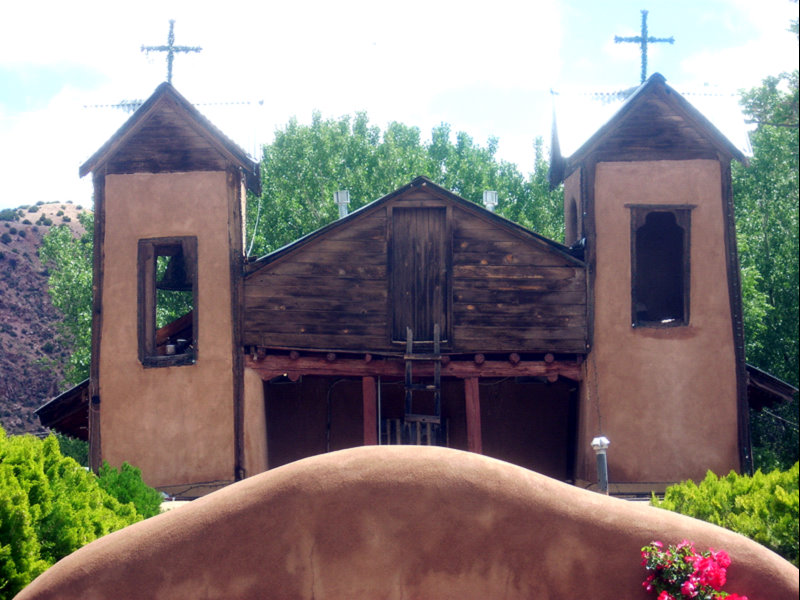 the best known site along the high road to taos is the sanctuario de chamayo, this classic adobe church famed for the healing powers of its sand. that's right, believers step into the holy side room, scoop up a handful of healing sand from a hole in the ground, and pour it over their afflictions. over night, the sand is miraculously refilled by god himself, and on the adobe wall beyond the sand pit are hundreds of photos and testimonials from the wounded, the healed, and the prayed for. is it real? does it work? hell, i have surya scoop up a handful for us... you never know when you might need some holy healing sand... and we put it into a plastic baggie in the glove compartment of bette's big red ford truck. by lunch time in taos, we're all scooping the magical and spilled sand off the parking lot concrete, but we do eventually manage to salvage a handful for any future-day miracles needed in LA.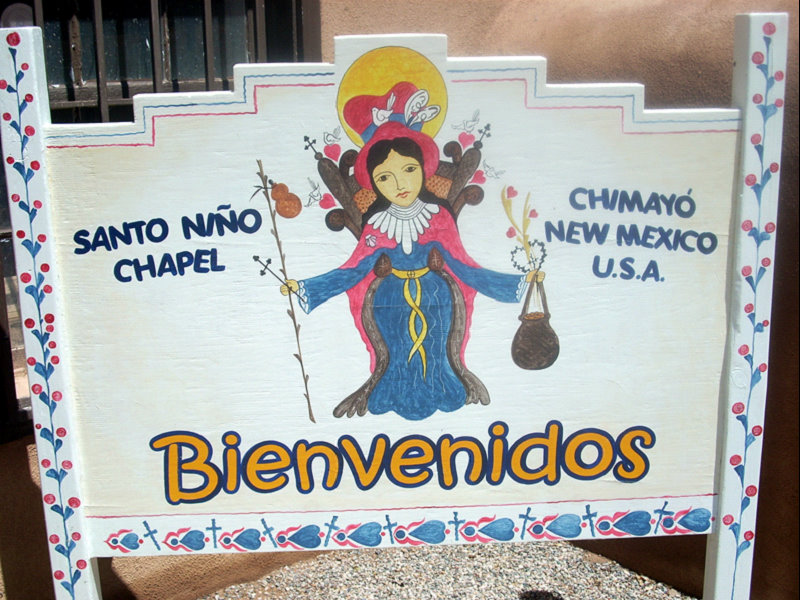 the next day, bette takes us to santa fe, where we stroll around for hours, go to her arty pottery studio, browse the galleries and coffee shops, and check out a local thrift store to buy 10 dollar western shirts. we eat delicious fajitas on the central plaza, surya buys the requisite pair of turquoise earrings, and i buy an authentic "billy martins" western belt along with a phony new mexico tin star, making me sheriff for the day. yeah, maybe that's it; maybe i was a lawman in my former life. or an outlaw. or a...
we buy a string of red peppers called ristras, and when we bring it back to LA, it's full of flying varmints. len has taken clay and rio for a day of errands and adventure, and we all meet up in godfrey reggio's studio late in the afternoon for a pre-lakers game pow wow. godfrey is one of the heroes of the eco-hippie generation with his powerful and wordless film classics like "koyanasqatsi" (translated, "life out of balance"), which hypnotize the audience with its images of the overwhelming slow-motion beauty of nature contrasting with the comical, terrifying frenzy of modern technology. he's been living in santa fe for decades, making films, figuring things out on his own, and his white bulletin board is still filled with visionary ideas and concepts for his next feature venture, pending funding, of course.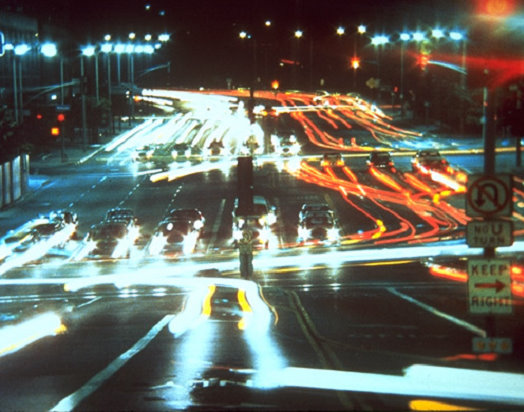 and i know i've come on this road trip, this vision quest, to find my own answers, to get away from LA, from city life, movies, tv... the... lakers? nah, wait! c'mon! how can i? i watched them all season long, through ups and downs, through all 3 previous rounds of the playoffs. da wife's even gotten on board since the conference finals. we can't abandon them now, can we? what would lamar and kobe think of us? fair weather fans. no way. not us! so... i do... we.. do...watch the mighty lakers split two games against the novice orlando magic. we even get len and bette's dish to record the games. from el guigue! pretty sweet! but as sweet as it is, the 2 real highlights of our visit to pastoral new mexico are: our wild cherry picking and... our day at the ojo caliente natural baths.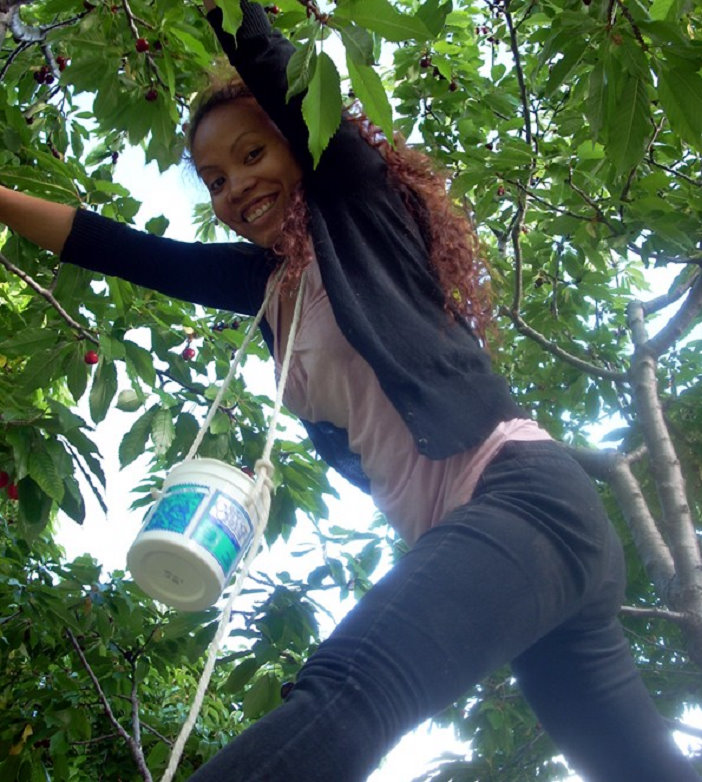 that's da wife, cherry picking. not as in picking the easiest chaff off the top of a bin, but as in a natural-born sumatran monkey's adaptation to her new southwestern environment... as she quickly learns to skillfully shimmy up, and precariously step along, the vertical branches to the very top of the tree, thereby gleefully picking the sweetest, darkest cherries between santa fe and taos. that's the little white plastic "fill" basket around her neck, with me down below, out of frame, holding the 5 gallon plastic tub that she pours her choice pickins' into. i then pull off the stems, after which the perfectly-picked cherries go into the house to get washed, then put into nice little, clear plastic 1 pound baggies for everyone in the neighborhood to enjoy. da wife's never been so happy. i think it brings her back to her childhood village days with her grandma, farming in sibolga... before her inevitable transformation into LA material girl, before the multi-colored finger nail painting, the annoying cell phone addiction, and the fatal attraction to southern california shopping malls.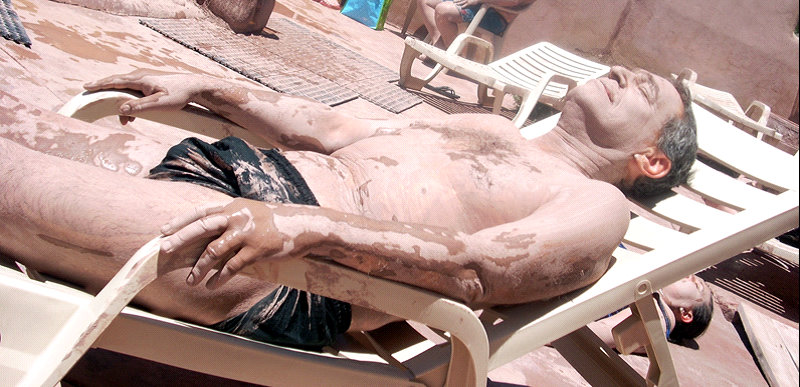 and that's me, soaking up the rays at ojo caliente mineral spa, just northwest of el guigue, a stone's throw from georgia o'keefe's beloved home in abiquiu. i've just come from the arsenic/iron mud pool, and if the arsenic doesn't kill me, i figure the famous red mud will draw out my inner city slicker impurities. ojo also has a soda pool, a lithia spring, a hot tub, steam bath, a sauna, and an original "milagro relaxation wrap", in which a cool dry blanket is first tightly wrapped around the previously geo-thermally soaked guest, to increase the core body temperature, then followed by a tighter and heavier wrap in a wool blanket, which supposedly, after the correct amount of sweating and purging, accelerates the release of toxins from the body. i did, however, hear from a former guest that she was left unattended in her tightly-wrapped woolen cocoon for over two hours in over 100 degree red rock canyon heat, instead of the requisite 25 minutes. needless to say, her horrifying and overcooked experience kept da wife and i, as needy as i was of purification, from tempting this particular hopi-yuppie ritual.
as it turns out, however, god, or the universe, or the hopis, ultimately and eventually have the last laugh. no matter how much caution one exercises. no matter how much planning goes into one's trip. and so.... as god, or fate, or the hopis would have it, both surya and i have taken off our jewelry, all of it, as the ojo rules insist... so as not to pollute or diminish the purity of the waters. we've taken off our silver necklaces, our gold wedding bands, our bracelets and watches, and our... that is, her, diamond engagement ring. we've deposited the whole caboodle into a thin pocket of her purse, and proceeded to soak away. like i said however... as god, or fate, or the hopis would have it, the diamond engagement ring has magically and mystifyingly... disappeared. nothing else, just the diamond ring, that i got from jeweler friends in mumbai. it's totally vanished. we can't find it anywhere, no matter how many times we empty the purse, search the car, or wrack our brains. ojo caliente has scooped up our diamond ring and blown it to the trickster desert winds. gone, baby, gone. "too bad folks," god, or fate, or the hopis laugh, "just another material attachment thrown to the wind." "LET IT GO," they all say in unison. and what else can we do but... LET IT GO? after all, it's one of the primary purposes and lessons of travel, folks: LET GO. and so we do.... and so we do.....
there's more jewelry to be seen and to be had on this trip. and in this life. lots of it. just let go.... just.... let go.......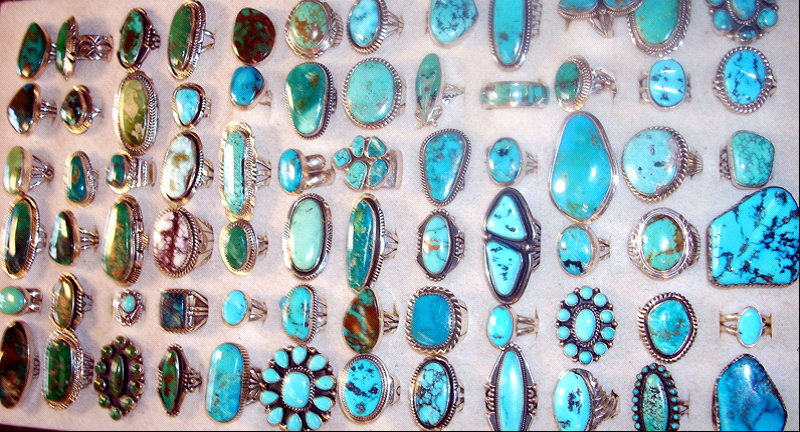 we spend a final new mexican day at taos pueblo, one of the oldest continuously inhabited communities in the united states. the native language, tiwa, unwritten and unrecorded, details the native american tribe's sacred oral history back to the evolution of man and to the north american creation myths. the mud buildings, built anywhere from 1000 – 1450 AD, still look like they did over a millennium ago. at one time, the only entry way into the homes was by ladder through an opening in the rooftops, which served both as a light source and as protection against invaders and intruders. made entirely of adobe, a natural mixture of earth, straw, and water, mixed and poured into forms, the pueblo buildings are, even today, restricted from using either electricity or running water. our late arrival once again has da wife's stomach growling, which makes for another too-quick visit, but she does manage to acquire another necklace or two, and i manage to overhear an informative guided group tour, snap some photos, and talk to one of the 150, mostly catholic, local inhabitants stilling living on the pueblo. i don't imagine taos pueblo will ever have a cash cow casino on the grounds, like so many of its brother and sister tribes do these days, so it still promises to be a hard scrabble life for these proud native americans.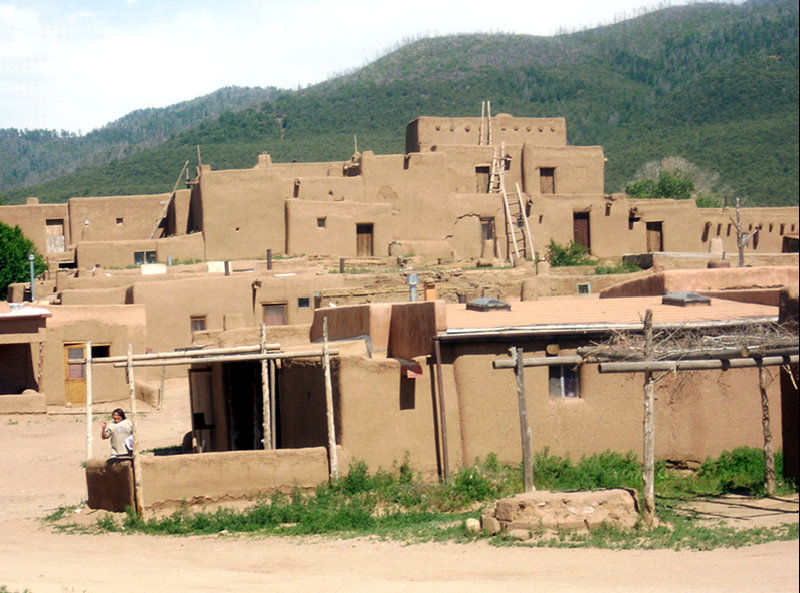 the next day, we're winding our way northwest towards durango. to see deana, who's a new grandma to liam out on the horse ranch near bayfield, and whose very existence is a lesson in baby boom, alternative/hippie lifestyle choices made by my generation. deana and i used to dance together, way back in the summer of 1970 in chicago, just one year after the summer of love in san fran-cis-co ("be sure to wear some flowers in your hair." can you hear the old scott mckenzie anthem?) when i first came to chi town, in all my unwashed, dread-locked, bohemian glory, deana was gracious enough to offer me her attic to live in for the summer. we rigged up a cow bell on a string from the 2nd to the 4th floor (attic), which acted as my daily alarm clock, and deana was my first "family" member in the 2nd city, where i ended up staying and dancing for 7 years. after about 3 years, however, deana met a young radical educator who convinced her to give up her artistic life and move out to new mexico with him to reinvent themselves, living off the land and home-schooling their children. it was a tough losing deana from our dance troupe, but off she went, inventing a toy company outside of santa fe with her partner, ed, employing local indigenous people to make the toys, and selling their jacob's ladders and other handmade crafts and toys to museums, galleries, and shops all over the world. now the home-schooled kids are all grown, one a social issues criminal lawyer who just moved back to santa fe, the other a new non profit executive director, working with disadvantaged pre-schoolers. deana and ed, although no longer together, and perhaps a casualty of the "free love" hippie experiment, did a great job with their kids, and all of them still live within the durango-santa fe area. it was great to see an old friend from 40 years ago, and still feel the bonds that tie, just as strong as ever. perhaps "once a hippie, always a hippie?"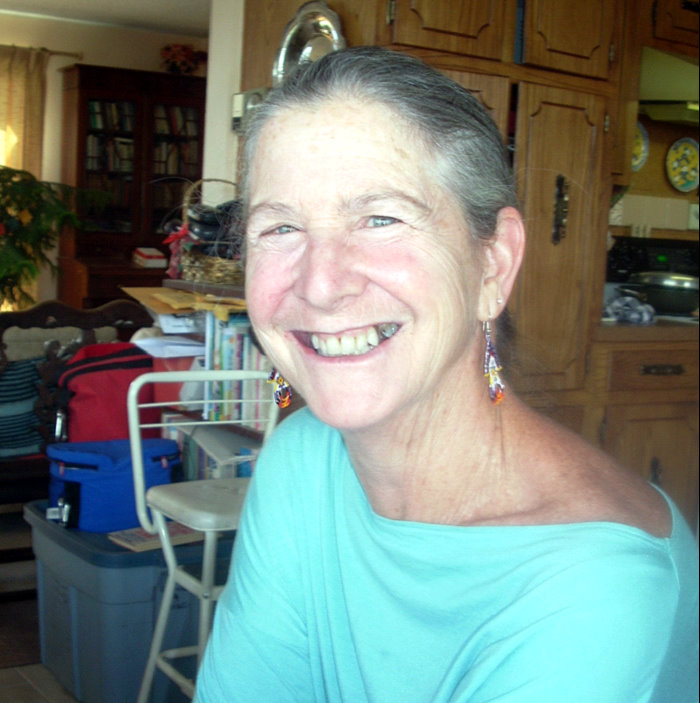 which brings me back to the hard redwood picnic table in vallecito creek, 23 miles northeast of durango. out beyond the rolling green mountains, the white water river rafting expeditions, and the other colorado lake country water sports. up in the ponderosa pines, i'm still on my back, probably not having moved a muscle in more than an hour and a half. that's my thing. i like to get to a spot and just become part of it. like a rock or a tree. i don't need to climb to the peak, leap the chasm, conquer the mountain, get... anywhere. i just like the "being" part. and of course, i'm still on my quest. still looking... for what? i stare up at the sky and disappear into the rolling cumulus clouds, into the needles of the ponderosa pines; i "become one" with the picnic table and the sky. i "just get lost", as the old junkie trumpet genius, chet baker, used to croon, dreamily thinking of the durango kid, of places i've been in southeast asia and northeast borneo, of what an unpredictable, fucked-up, beautiful planet we live on. of how life has not at all turned out how i planned, how i could have ever even imagined or predicted. how life has a pattern and a chaos all of its own, and me thinks... all one can do, if one is a good improviser and if one stays open to life's many and confusing cues, is go along for the crazy, beautiful, unpredictable ride. and to love along the way..... ("once a hippie, always a hippie?")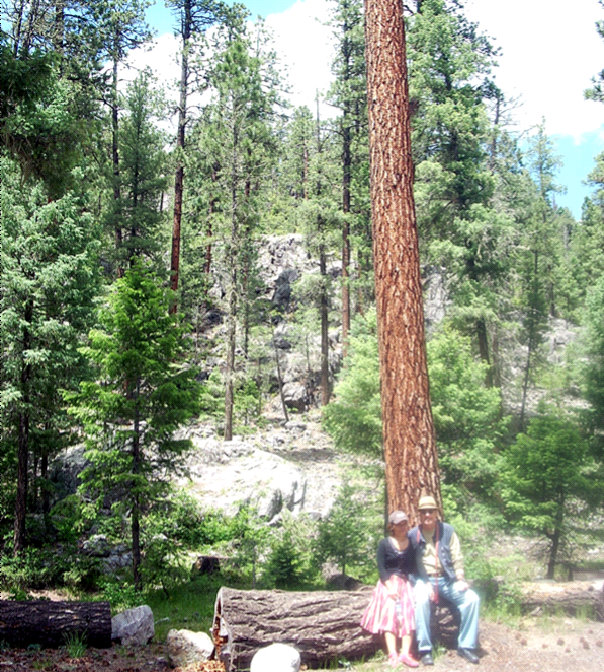 durango is a far as i planned this trip. and we still have another 4 days to go. you see, i left it sort of open... depending on the wife's long distance driving capability and adaptation. so far, so good: grand canyon, sedona, taos and santa fe, now durango... curves and all! what next? stay open.... fortunately, just as we're pulling out of durango, we meet another deana, believe it or not. this one is the former resident archaeologist at mesa verde national park, just a few miles northwest of durango. having gotten more than a little fed up with US government park rigmarole, deana #2 now runs a wholesale jewelry shop right down the street from durango's main drag. not surprisingly, da wife makes a few more purchases ("good prices! good prices!"), and deana #2, in her partial new yawkese, swears to us that mesa verde is one of the 3 most fantastic places on the planet: the great wall of china, mesa verde, and... damn... i already forgot the third. but after a short lecture on local geology and native american history (requested by yours truly), deana #2 draws us a hand-written map to mesa verde, followed by a route to monument valley, via a gravel road into southeastern utah just past cortez, colorado. then, invitingly, she says, "if you're game" (and we are), she draws us another adventurous map, traveling north on route 95 through natural bridges, lake powell, and glen valley national recreational area, up to hanksville, utah, west on route 24, then down "scenic byway" 12 through boulder (utah), on to bryce and zion national parks. two turquoise rings and necklaces later, we thank deana #2 and "go west, young man."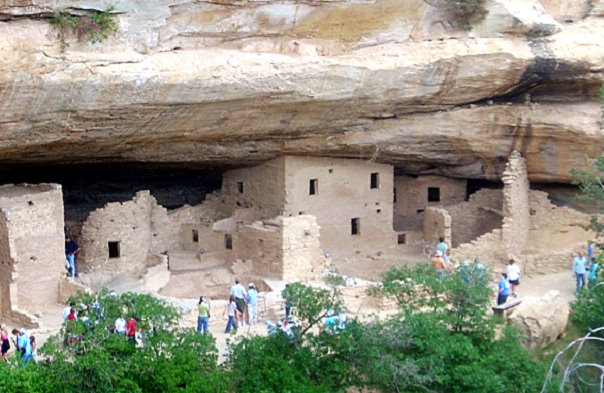 this is "spruce tree house", the third largest cliff dwelling in mesa verde national park. constructed between 1200 – 1276 AD by the anasazi, the dwelling contains about 114 rooms and 8 kivas, or underground ceremonial chambers. it is thought to have been home for about 100 people. actually anasazi, which translates into "enemy ancestors", has been thrown out and replaced in today's politically correct lexicon, with the term, "ancestral pueblo dwellers". okay..... as we climb around the grounds of these "ancestral pueblo dwellers", we shimmy down a ladder into one of the kivas. it is hard to imagine how these ancestral pueblo people lived: where they worked, slept, ate, and gathered for ceremonies. what did they do in the cold? expediently, the excellent park rangers answer all my questions: "where did the anasazi store their corn, squash, beans, and other food after it was harvested?" "how long has this sandstone looked like this?" "when did the people abandon these cliff dwellings and why?" it seems, in answer to my last question, that at the end of the 13th century, many years of farming had depleted the land and timber had become scarce, forcing the hunters farther and farther afield. after a prolonged end-of-the-century drought, indicated by tree ring studies, the "ancestral pueblo dwellers" had probably finally had enough of their cave dwellings. they began migrating south during the late 13th and early 14th century for easier hunting and gathering. in modern times, the descendants of these people, the hopi and other contemporary pueblo dwellers, live in northern new mexico and arizona, while utes, navajos, and apaches occupy much of today's mesa verde terrain.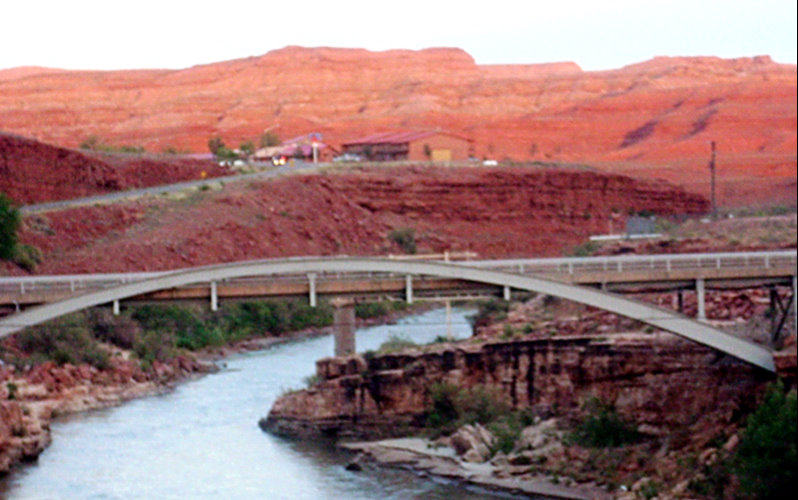 we follow deana #2's map meticulously and end up at the foot of the red cliffs on the san juan river, just on the eve of our long-anticipated drive to monument valley. old clay charms his way into the good graces of a friendly biker clan from waco, texas, and they feed him left overs from their burgers, ham & cheese sandwiches, and arroz y frijoles. he scarfs them all down cantankerously. now i don't know exactly what happened the ol' boy, because clay was the perfect passenger all the way from LA to new mexico, but now he's become a royal pain in the ass. it seems that every vibration from a lane change has him spooked, not to mention the long, monotonous hours on the road. he keeps pressing his snout into the front seat at every little bump in the road, as if he wants his turn to drive. "chill, clay!" has absolutely no effect on him, as apparently gravel just isn't his thing. truth be told, and notwithstanding my homage to the great steinbeck's "travels with charley", it'll be a long time before we consider taking the old hound on a two week road trip again.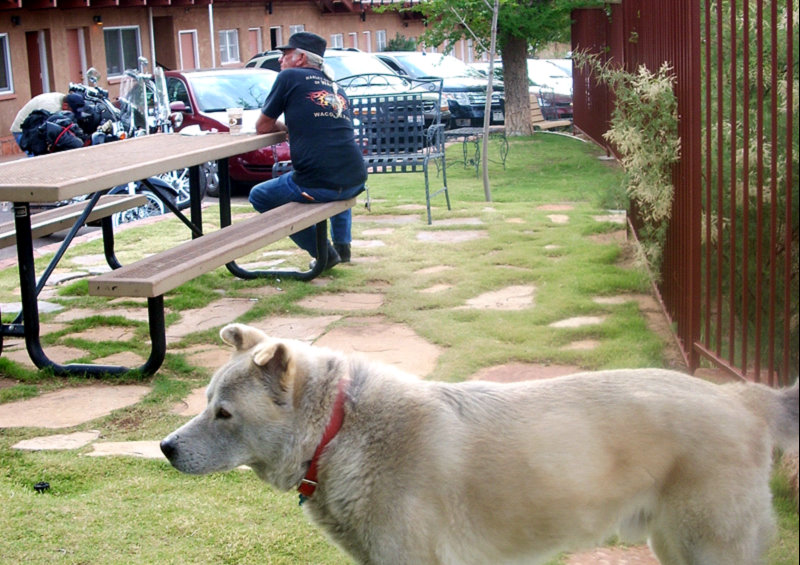 nevertheless.... bright and early the next morning.... there she is.........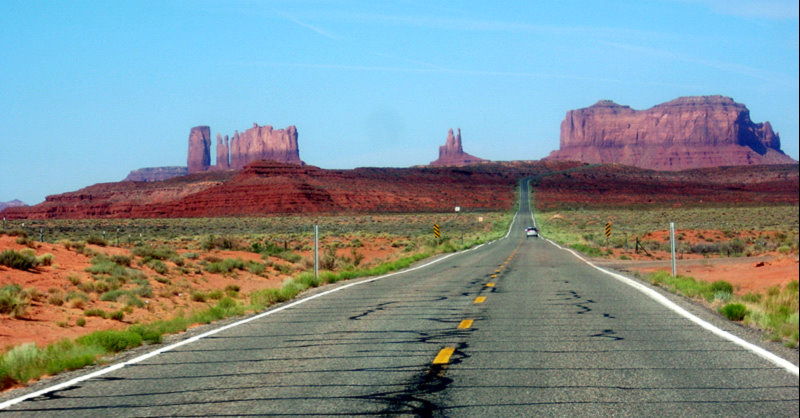 john ford's iconic monument valley, as seen from the 163, driving southwest from mexican hat, utah. "stage coach" (1939), "my darling clementine" (1946), "fort apache" (1948), "she wore a yellow ribbon" (1949), "the searchers" (1956), plus two slightly less worthy films, one-eyed john ford shot them all here. him and "the duke", john friggin' wayne. red rock. blue sky. the U.S. cavalry. cowboys. indians. guns. honor. pride. endurance... the american west. "great mesas, hovering buttes, sandstone pinnacles, spires, fins and arches, all monuments to 500 million years of giant earth uplifts and the perpetual forces of erosion," the valley has them all. harry goulding came here in 1923, when it still belonged to the paiutes. in 1928, when the land became available for "homesteading" (another name for the U.S. government's exploitation of the native americans?), goulding bought 640 acres for $320. he built a "trading post" with living quarters upstairs on the 2nd floor for himself, his wife, leone (any relation to sergio?), and his movie friends to be. now a museum featuring the swinging saloon doors from "my darling clementine", the trading post has expanded and cloned itself into the highest price hotel within 200 miles of the valley. "goulding's lodge", named appropriately enough, today lies on navajo reservation land, but it apparently hasn't stopped the current owners from developing perhaps the 2nd biggest tourist attraction in the southwest. ruff! ruff!, harry!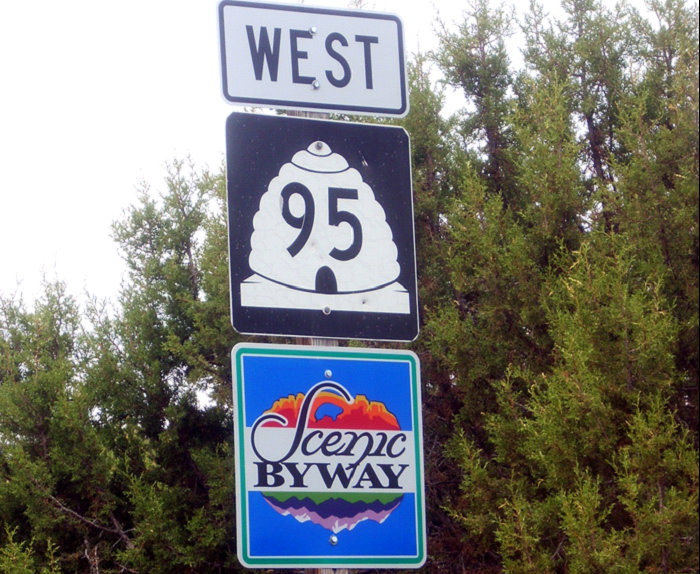 scenic byway 95 is the one of the most beautiful roads i can ever remember driving. starting just south of blanding, utah, off the aforementioned "monumental" 163, the 95 heads west through true "canyon country", between canyonlands national park and the glen canyon national recreational area of southern utah. not exactly clay's cup of tea, the 261 from mexican hat to the 95, climbs some pretty twisted gravel road buttes, but what he doesn't seem to understand is how totally camera worthy it is. he does notice, however, that once on the 95, there's hardly a car to be seen for long stretches of road. it's kind of spooky, like maybe some spirit warrior is following us. it feels like we're actually driving through the grand canyon, as opposed to just looking down at her from a park's antiseptic visitor center. as we cross the colorado river just north of lake powell, we pull off into one of the many roadside turnoffs to further commune with the haunting and barren red rock canyon.
this time i take a short trail into the canyon. alone. as surya walks off with clay in the opposite direction. it's absolutely still. and quiet. no birds. no sounds. just me and the canyon. and maybe the rattlesnakes. and lizards. and indian spirits. i feel the age of the place. the layers of sediment. and history. i feel... the guilt of my race. of my country. for all the treaties it's broken with native americans. for all the "long walks" it's made red skin people take to reservations of idleness and shame. for all the disease it spread. and profiteering it did. for all the gold and silver it took. for all the buffalo it killed. for all its lies. for all its hypocrisy. and i grieve for the loss of my country's connection to the land. to the sky, to the wind, to the earth, to the animal and spirit kingdoms.
and then i hear a woman's voice. a canyon spirit? perhaps. silence. i walk back... along the short trail. i hear another... woman's voice. i recognize it. it's, in fact, my wife's.... who's talking gregariously to a lovely, pale-skinned, gray-haired woman, who tells us she's originally from murfreesboro, tennessee. i think she's real. and then know she is... when she invites us into her luxury rv after i tell her surya's never seen one before. we enter what must be the rolling grand poobah of all recreational vehicles, and we can certainly see why the woman and her ailing husband have been on the road for 3 and a half years without any place to call home except where they park their rv. because with roads as well cared for and inviting as these, and canyons as magical as this one, we can certainly "dig" the allure of being "on the road".
before we get back in the car, we read: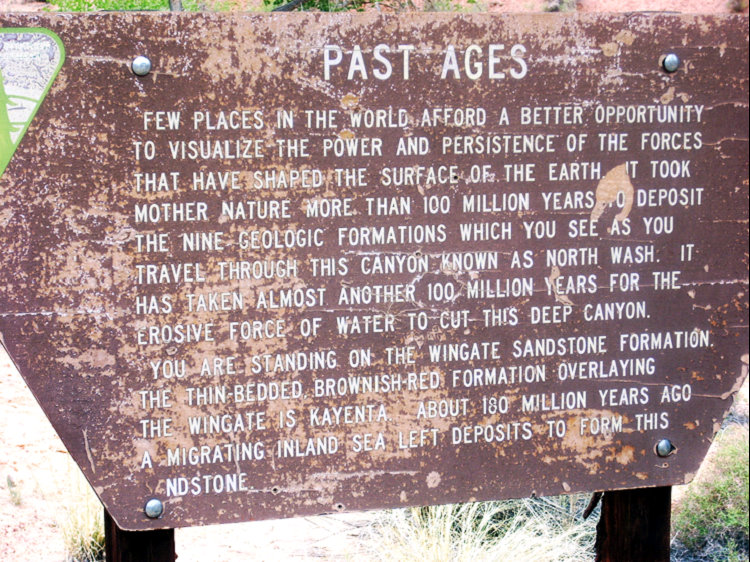 180 million years ago? riiiiiiiiiight. eat your hearts out, all you bible-toting creationists!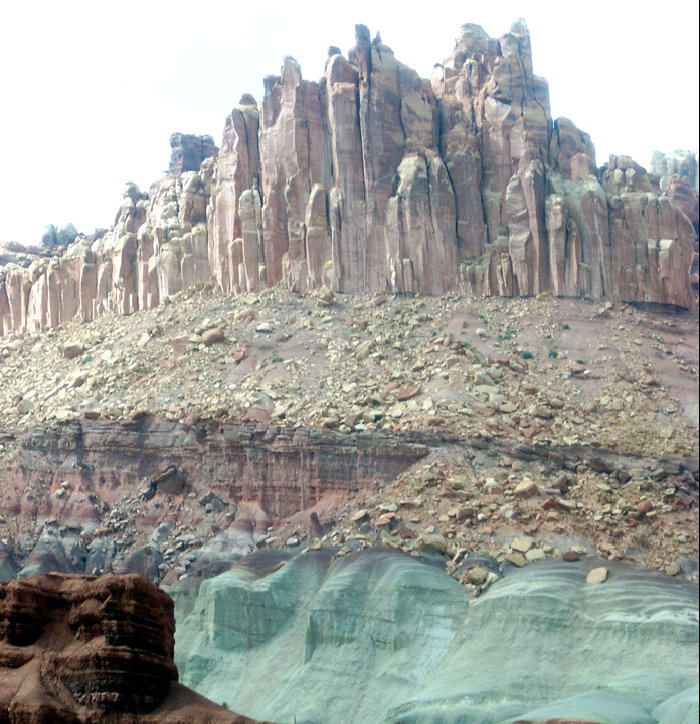 after a quick sleep over, in boulder, utah, a fraction the size of its colorado namesake, we make ready for our crash course and one day assault of both bryce and zion national parks. in boulder, clay has a little "encounter" with the miniature shetland ponies in the yard of our motelier, but things are quickly and satisfactorily worked out between the specious species....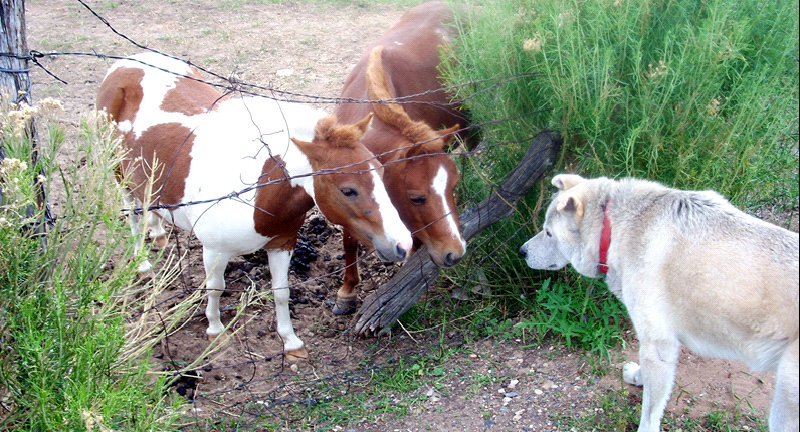 ---
ok, now we have just more 1 day remaining on our 2 week, 4 corners search and adventure, and i still haven't had.... no, not a "perfect moment", as spalding gray would always say, but i haven't had.... no, i haven't.... found..... what?
all i do know is that we really have to truck it through both of utah's great national parks, both of which, admittedly deserve a whole day (or more) to themselves. first... are the spectacular "hoodoos" of bryce. "hoodoo, a pillar of rock, usually of fantastic shape, left by erosion. 'hoodoo', to cast a spell." such reads the bryce canyon national parks brochure. "ancient rivers carved the tops and exposed the edges of these soft sandstone blocks, removing layers and sculpting fin-like formations in others." unfortunately, dogs are not allowed on bryce's delicate unpaved trails, which... fortunately... gives me a scientifically-sound excuse to allow da wife to hike down into yet another prehistoric canyon, solo, while clay and i simply stay behind, perfectly content to enjoy the stunning views from the paved overlooks. i mean, it doesn't matter from where you get the wisdom, does it?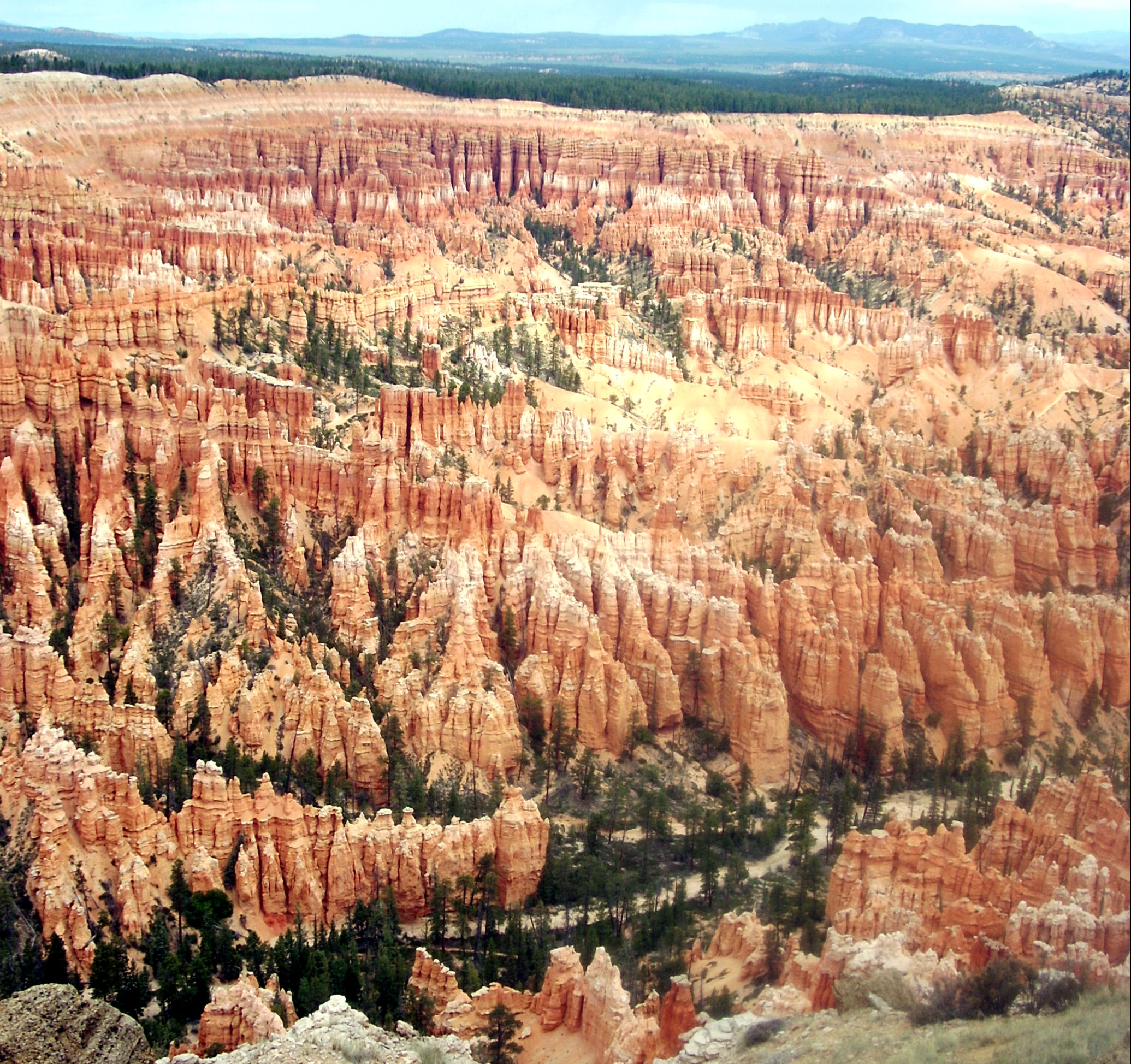 it's already 3pm when we hop on the 89 from bryce to zion, and much to our dismay, nature is meeting us head-on with a full fledged thunderstorm. but at this point, hey, we're seasoned travelers, knowing that behind every closed door lies another open window of unexpected opportunity. so – we get to see zion, not in beautiful, southwest sunset-kaleidoscopic color, but instead in full-fledged, toonder and lightning, storm mode. but much to our delight, the old man (or old woman) couldn't be putting on a greater show for us, as the teeming rain pours over zion's mighty cliffs from about 10 cascading waterfalls – simultaneously. that's right, 10 waterfalls, all at once, from the deluged cliffs of zion. if it sounds like a religious experience, well, yes....... maybe it is. or maybe... it's as close as this atheistic, aesthetic jew-bu will ever get!
---
and so, with perhaps as much wisdom as god... or the universe... or the hopis... have to offer me, i realize that it's time for our final sprint home. back to echo park in LA from hurricane, utah. in one fell, 8 hour swoop. i also remember that my father died just over a year ago, barely a few months before his 91st birthday on june 13th, 2008, and that i, exactly 30 years his junior, have perhaps just another 30 years left on the planet. at best.
there's just one more wrinkle left in our perfect fabric of a 4 corners quilt. and it has to do with... big love. that's right, "big" "love", as in HBO's semi annual tv series about... mormons. specifically, about polygamist mormons.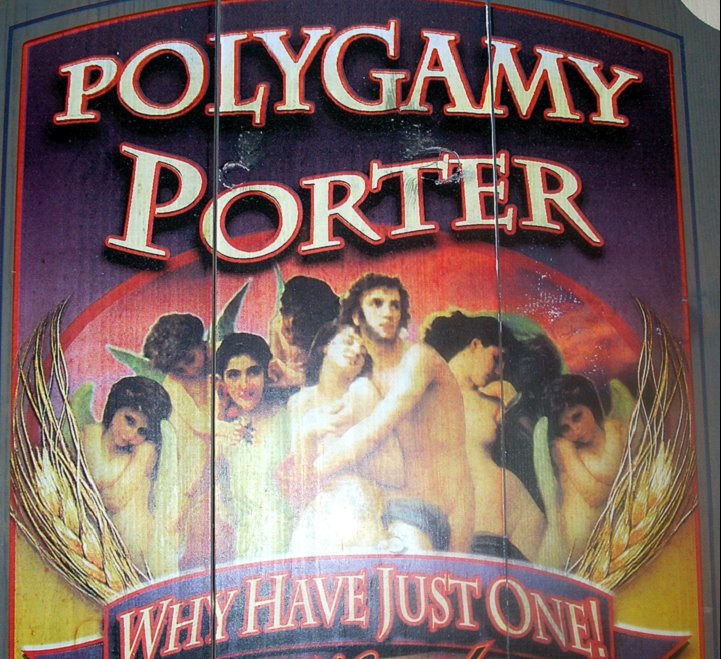 you see, da wife is more than a little obsessed with big love bill... and his 3 (almost 4) "sealed" wives. frankly, coming from multi muslim-wived indonesia, i find it a little hard to believe. but there she is, week in, week out, following the scripted travails of ex-communicated barb, compounded and orthodox nikki, and free-wheelin' and wacky margene. now she wants to see the real thing. polygamist mormon wives. in utah.
so... after getting us some fresh bagels for breakfast in summit, utah, right outside of zion (that's right, fresh bagels in mormon utah; what's the world coming to?), i organize a little tete a tete with the head bagel man, bob, not coincidentally a lifelong and proselytizing mormon from northern utah. bob, now pushing 70, is still an LDS (not LSD) true believer and zealot of the church of "latter day saints". and as luck would have it, he's just gotten back from a mormon convention in san diego, with a fresh stock of the "book of mormon" i.e. the gospel according to joseph smith and his messenger, brigham young. standing above us at a coffee table, bob gives us the cliff's notes version of the history of mormon, explaining that the "FLDS", the "fundamentalist" church of jesus christ of "latter day saints", is, in fact, not the true church of mormon, but one living in sin by its continued practice of polygamy. shit, i think, and ask politely, "where?"
so... without realizing it, bob sends us directly into the land of sin, colorado springs, utah, just at the arizona border line, where a community of fallen FLDSers are in full practice.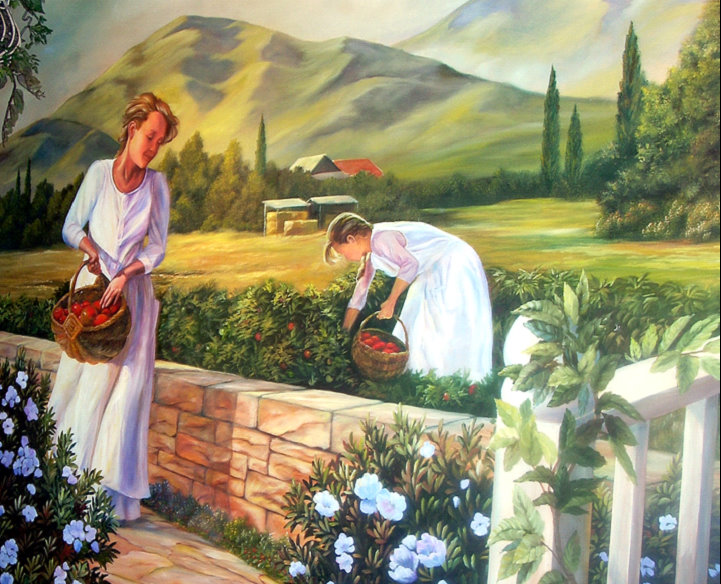 yep, here they are. in this painting on the wall of the "merry wives café" in colorado springs. i think it's a euphemism for "many wives café", because as we drive around the "don't look at us" tract house town, we see many women dressed exactly like this. many with their large broods following right behind them in good, god-fearing lines. same hairdos, same long, light blue dresses, they might as well be living on roman grant's "big love" compound in HBO land. surya is excited. i'm excited. she, because she actually saw them, polygamist mormons. me, because i actually found them. just like "in the movies."
and that's when it finally hits me. when i finally realize what this whole trip has been about, as we pull into our echo park drive way, and let the long-suffering clay out of his 2 week, 5 door prison, into the empty lot across the street. it's been an scenic adventure trip up and down the highways and biways of classic americana: the good, bad, and the ugly. just like sergio leone and john ford knew all along. myths and archetypes. life and death. nightmares and spirits. the grand canyon, the rio grand, john wayne, monument valley, the red rocks and hoodoos of bryce and zion. what more could the wife ask for? what more could i ask for? in a way, it's been just like our trip across java in the winter of 2000, my first insight into her culture. into another way of thinking. another way of being. seeing the classic shadow puppetry of yogakarta, the buddhist temples of borobudur, the tea plantations of bandung... one "boulay's" (gringo in indonesian) introduction to the highways and biways of southeast asia. and i realize... that in a way, the cowboy of my youth has turned into the boulay of my maturity. and i'm okay with it. it's ok. not perfect. not without challenges and nightmares. but fucked up and beautiful, full of big love... and... just like it's always been. just like it's always been.....
greetings from (the) summit,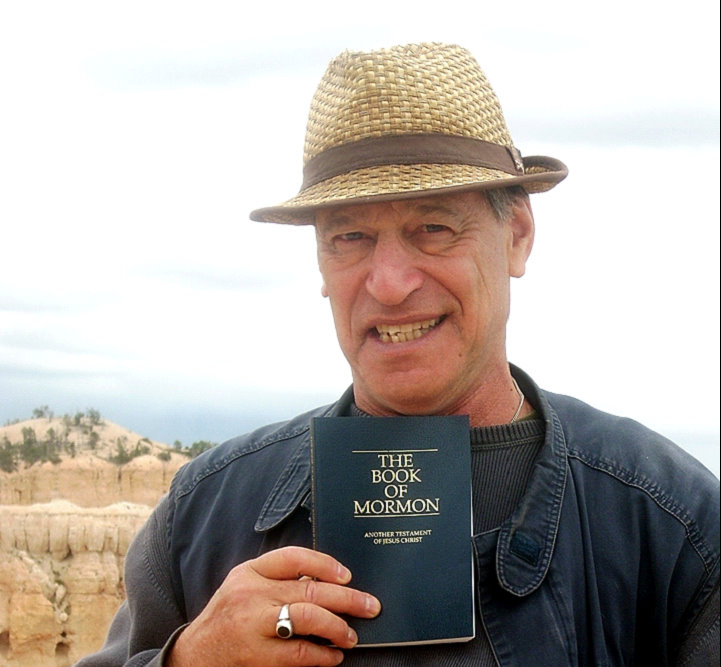 -mormon marvin