« xmas in new york 2002 »





---
---
---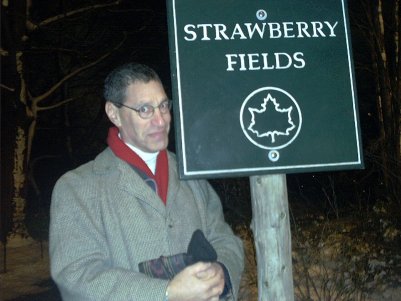 ---
---
---
autumn, 2002


arrived back from malaysia on august 30th, already a week late for classes. all too immediately, and not much to my liking, hurtled back into the too comfortable, and oh so familiar, LA routine: wake at 6, doze, worry, plan, look at my indonesian princess still sleeping next to me in my doubly occupied king size bed; stretch, shower, e-mail, walk the dog, fill up the tank, teach, drive, shop, dinner at 7, sleep, wake, shit, read the LA times. a few variations and arguments in between. as if i hadn't been gone for 8 months at all. as if - no borneo. or kuala lumpur. no indigenous long houses, shy clouded leopards, happy sun bears, blood-sucking leeches, black magic bomos, hot dripping rain forests, used-to-be headhunters. no great south china or sulu seas; no three bedroom townhouse or service condo with the presidential suite. no islamic universities, women in tudongs, or teaching self expression & individuality to a conformist, "malu" society. no modern deco KL twin towe rs, teeming & colorful night markets, or post-screening victuals at the royal selangor club. no living under stark and imposing mount kinabalu, swimming with balmy and blissful turtles, or getting lost in the dense and daunting crocker mountain range while hunting leathery and exotic rafflesias; no old rusted & colonial iron horses, rushing white water rapids, modern megamalls, buddhist temples, five time a day call of muezzin from neighborhood mosques; no more osama bin ladin t-shirt or screensaver tributes...











just like all trips, no matter how long, when you get back, it seems you're right back where you started (or left off). as if the present simply had no time for the pleasures, lessons, or nostalgia of the past. no matter how delicious, difficult, transcendent, or profound. take surviving cancer for another example...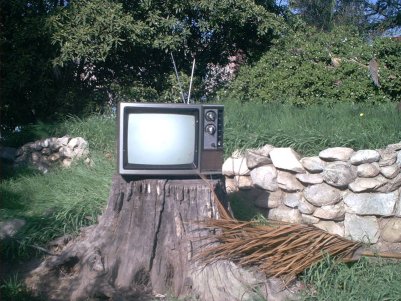 so after getting through the semester, no longer the exotic and well-paid american expatriate with a fulbright - -- but once again, the modest and invisible college prof with a new boss (dean), no security besides the "excellence of your teaching" (riiiight!), a class and salary adjustment less; wati taking 2 ESL english classes a day while working out daily at the toney downtown YMCA, getting a new subtenant, a new dog, honey, to try to keep the escape artist, clay, in the yard; having to pay top dollar for movies again (post luxury/crime of pirated malay VCDs), and the all too depressing & pervasive media blitz and real threat of mr. bush's impending wars on terror & iraq, we have decided to travel more locally for our christmas break.....


"new york, new york..."











december, 2002


the plan is to show wati the big apple for the first time. i've promised her a christmas present, a new years' eve dinner, and snow. tall order. i hope i can deliver…………


"…it's a wonderful town. the bronx is up and the battery's down..."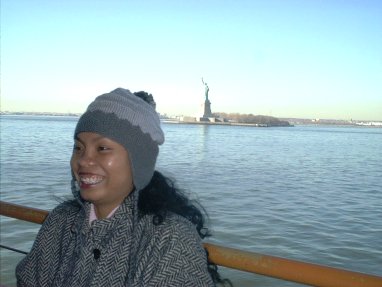 so that's where we start. at the bottom. the battery. after flying jet blue from long beach, the philanthropic todje mandela driving us all the way from dog-barking echo park, we taxi from JFK to just-across-the-way (from the battery) david and lisa's (not david lean's) and mr. mailer's (once again, toney) brooklyn heights. after a warm visit with old friends (new for wati), a calamari and mussel banquet, & a brief respite, we bundle up the next morning and take the number 2 train from clark street - under the east river - switch to the C train at chambers, change platforms to the end of the number 1 line at south ferry, and walk right out of the subway onto the - staten island ferry. no longer 25 cents - but free! round trip - staten island and back - past ellis island, where all the poor & huddled immigrants used to enter the great US of A (long before illegal mexican deportations from sunny california) and where my grandfather was left with but six letters of his too long to pronounce and record russian name, truleserskolnikov; past the great green torch bearer herself (the one and only symbol of new york young wati knows besides the fallen trade towers); freezing our californian and indonesian asses off respectively in 20 degree (minus 5 celsius) sunny but windy new yawk weather; experiencing life, liberty, & the pursuit of happiness as only two lucky-to-be-in-manhattan-for-christmas tourists can be.











a walk west across the battery, past trinity church, along maiden lane, to the gaping epicenter of ground zero, now a sad and omnipresent reminder of the day several of my new york friends actually saw silhouetted but still-alive human stick figures hurl themselves from the burning glass and steel inferno, actually saw billows of gray terrorist ash tear through the streets up the sides of their downtown skyscrapers into their 33rd floor glass windows, actually felt the shock and horror of those two giant towers crush and crumble the imperial aloofness of their great country and gotham city forever. now, a year and a half later, the smell of burnt carnage no longer in the air, the fenced-off giant lot seems more a casual tourist stop with flashy photo books, fiery post cards, & over-priced t-shirts for sale. yet the site is still a poignant and emotional reminder to any un-casual tourist who wants to remember what brutally did happen on september 11th. and how resilient th e city, its people, and the human spirit is in the face of even the worst tragedy imaginable. my friends even tell me that new yorkers have changed since the day - they are a bit more humble, more helpful, more brothers & sisters-ly in arms. and what can i say, i can actually attest to the fact, as a bald middle aged, bespectacled man in standard handsome black woolen longcoat, seeing me look around helplessly for the right subway sign connection, says genuinely and with enthusiasm, "can i help?"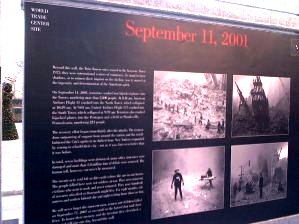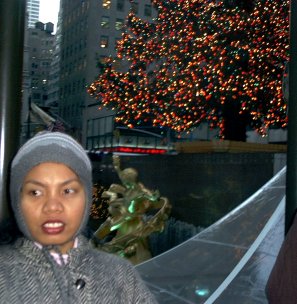 next - right uptown on the RR to 49th street. 7th avenue. broadway. times square. the TKTS booth (where you can wait in line to buy half price tickets for NY theater, and where i used to make my $55 a week rent for the nearby hotel woodward in 1977 by buying at half price and selling at full!). wati's never seen so many people crushed together at the same time. she's not an "oh wow, look at that!" kinda girl, but when we walk across 51st street to fifth avenue and st. patrick's cathedral suddenly reveals itself to us in all its euro gothic beauty against the clear blue NY sky, even wati's breath is taken away. over to rockefeller center, a look at its regal christmas tree, its pristine skating rink, its white wire christmas angels, across to sak's gorgeously automated christmas windows with the story of the sleeping princess who is awakened by the handsome bavarian (or is it bvlgarian?) prince; a pit stop in sak's 4th floor women's lounge with all the elegantly displayed and pretentious female outfittery, so well groomed and paid for by the hapless and mighty captains of industry and suburbia. wati wants to know if this is where i'll get her christmas present. i tell her not to hold her breath. "and where's the snow?" she asks.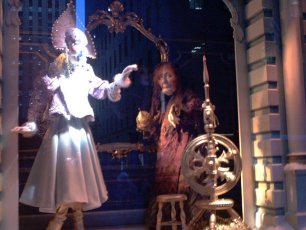 it's dark by five thirty and the twinkling lights and giant red apples of teflon sixth avenue are a highlight to a perfect day one in the biggest apple of them all, new yawk city.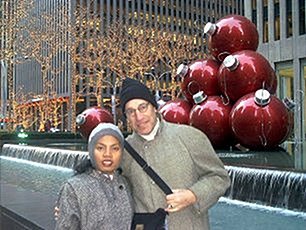 day two


what can you do to follow that opening act? no problem. anywhere you go in new york is equally thrilling. no planning necessary. just walk. open your eyes. as a native new yawker (well, actually "lon-gislander"), there's no better way to see your city than through a tourist's eyes. especially through a first time tourist from the eternally hot and equatorially humid island of sumatra. wati's already ready to move to new york. she loves the power of the feet. walking around again. like in medan or bali. no isolating automobiles. no being stuck on a hillside in echo park. no waiting to be ferried around by doting mr. tru-les. yeah it's fucking cold, but we've bundled her up in black turtle neck layers, wool gloves, a cute hand-made gray and white wool hat with ear flaps from san francisco (oh yeah, we were there for thanksgiving with the truleses), and her new leather lined coat from wilson's in LA. and she's having a blast. she's even Talking to my NY friends. can you believe it? those ESL classes are really paying off! well, not actually paying -- did you know that anyone in LA can take unlimited ESL classes - all day long if they want - with absolutely no legal documentation - for free. it's on us - the LA taxpayers and the LA unified school system. hell, what can i say, there really are some great benefits and privileges of being an american - even just coming here with a tourist visa for a hopefully renewable 6 months.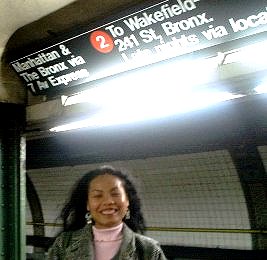 as i was saying, day 2 -- another # 2 from clark street, change at fulton for the 8th avenue C train. off at west fourth, green-wich village, no longer the bohemian mecca of the forties, fifties, & sixties. no beatniks, ginsberg, dylan, or hippies - just the refurbished washington square park with its new fenced in dog park (sorry, clay), the new blue note with $55 per head tickets for the manhattan transfer all christmas week, lots of brick and metal intrusion by ever-expanding NYU, "the fantastics" finally no longer running on sullivan street, and lots of zagat-recommended bistros and restaurants along the formerly mean streets of bleecker and mcdougal.











down across houston (that's "how-ston", not "hugh-ston", you crackers) into soho. west broadway, with its ever changing smorgasbord of euro-trash designer stores. i used to teach clowning around the corner at 68 mercer street, taking my graduate bozos out into the saturday melee of bridge and tunnel tourists. oh yeah, i ran for mayor of new york back in those days too, don't you know? as a clown. gino cumeezi. against ed koch and 16 other democratic primary hopefuls. "put a real clown in gracie mansion." that was my campaign slogan. and guess what? i finished fifth out of four candidates. not bad, eh? anyway, we stop to buy wati a new swatch. very retro, i figure. and what does she know? it's a nice pink plastic band, and it's from west broadway in soho...











a little overpriced turkey gumbo soup for fortification against hunger and cold, and right down west broadway to canal. thank god, the scenery and price tags still change here. my high school bud's hardware store, C.K. & L., is still there at 307 canal (he's the "K", as in katz), and we meander over to mulberry, where looking left and uptown, we gaze upon the red, white, & green pride of roma, napoli & sicilia, little italy. we're supposed to meet my "dogamentarian" friend, gayle kirshenbaum, there, but first we stroll into a couple of authentic turn of the century italian delis & bakeries to smell the fragrant italian sausages and stinky bricks of fromagios. there's nothing like the indigenous neighborhoods of new york - hell's kitchen, germantown, chinatown, the east & west villages, the upper east & west sides, harlem, scorsese's mean streets of little italy - yet they too, as they have right here on mulberry, have been invaded, sanitized, and steri lized by rudy guliani's homogenization of manhattan. yeah, there's fewer bums on the bowery now ("homeless people" for the politically correct), and yeah, women can now walk manhatttan twenty four seven.... but at what price, rudy? at what price?











the baked lasagna and spaghetti with white clam sauce lunch at "luna's" on lower mulberry is still delicious though, and the tacky and garish lime green walls with plastic christmas ornament decor still can't be recreated. we get a little bonus too - with dessert - so after a one sip four-way toast ("lisoy" in indonesian), i down the remaining four shots of anisette and amaretto, and we spill out into the mean zagat streets, me with a nice little "bobo" buzz (bourgeois bohemian for you illiterates).


a soft focus stumble up through soho and greenwich village again, then west through the gay and louise lortel streets of the west village, along jane and sheridan square, all the way over to merce's west beth, just below the quickly becoming gentrified factory warehouses, soon-to-be stradas and pradas, of the old 14th street meat market. gayle's little star of her "dogamentary", chelsea, is there, along with the prototype chelsea t-shirts, coffee mugs, tote bags, and snuff kits. well ok, not the snuff kits. wati has a thing for cute little lap dogs, so after doting on the star, scarfing some godiva chocolates, and getting a few soon-to-be valuable "dogagraphs", we bid chelsea and gayle a fond farewell, bundle back through the garlic smells of the west village, and hit the number 3 train back to clark street, david, & lisa. they promptly put us in an "xyz" limo, and half an hour later we find ourselves in the blue collar and multi-lingual hinterlands of -- long island city. wati say, "where's the snow?"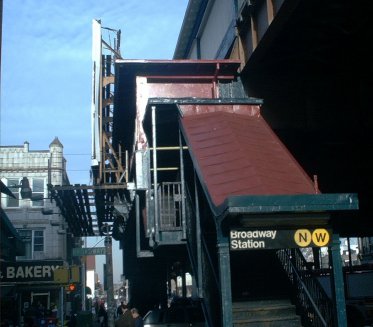 day 3


you've heard of this place, right? long island city? that's the place you parked you car if you were brought up in the lon-gisland suboibs of the 50s and 60s - to save money and take the N or double R train to manhattan. well, the subway still runs - on the elevator tracks high above the streets of broadway and steinway (yes, the same of piano magnate family fame), but the place is now a strange ethnic mix of every immigrant group imaginable (greek, polish, bangladeshian, chinese, colombian etc etc - times fifty). along with simultaneously being the last affordable alternative to sky-rocketed manhattan rents for on their way up, or down, midtown junior execs. anyway, young carl flanigan of disney employ (and formerly my devoted student and lucretian hawk-spying subtenant) lives here now, along with his hard-working irish fashion designer soon-to-be fiancée; and they, carl and anne, having planned a fine wet christmas in ireland with her family, have left young wati and i in c harge of the abode on 35th avenue and 28th street. imagine archie and edith bunker, that's where they lived - back in the meathead, all in the family 1970s. now archie's 1 bedroom goes for a thousand a month, and who knows what the colombians and bangles are paying?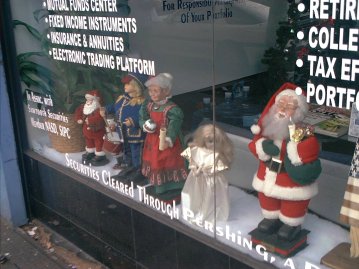 we spend the first day in the new digs roaming around our new hood. along astoria's broadway, where "uncle george's" is supposed to be the best greek restaurant in new yawk, past all the ethnic delis, hardware stores, butchers, nail salons, food stalls, laundromats, 99 cent stores, sidewalk stands, and flower shops; up 35th avenue to the kaufman astoria studios, where we stop in and visit the adjacent museum of moving images. amongst many and sundry technological and creative exhibits, they have a collection of bobby de niro's costumes from his most memorable movies (jake la motta's boxer's robe from raging bull, travis bickle's cab suit from taxi driver, the leather jacket from marty scorsese's mean streets), along with an impressive collection of old clunker silent cameras, behemoth editing rigs, late 40s/early 50s tv consoles, and a whole floor of new digital technology. this ain't exactly wati's thing, but she does graciously give me a few hours following my nose, and eve n comes back with me a couple of days later to see scorsese's 4 hour "personal journey through american movies". man, that guy can talk. i hadn't even seen 70% of the films he was talking about. obscure titles by murnau, von sternberg, vidor, de mille, walsh, ford, tourneur, aldrich -- and he says he's still watching and learning....











well, it was apparently museum day, so after seeing "maid in manhattan", j-lo's cinderella story with the great british support cast (fiennes, richardson, hoskins!) and the extraordinary collage of new york's hippest and most colorful scenery (that i promised wati we would see for ourselves), we take the lexington avenue IRT to the upper east side of old money, swinging singles, and museum treasures. from the oh-so-hip bars & bistros of 2nd & 3rd avenue, to my parents old doorman apartment on lex and east 80th, to the two way traffic of twinklingly chic park avenue, to the gucci black leopard windows of madison avenue, we make our way up 5th avenue past the humongous old world metropolitan to the stylized contemporary guggenheim. we luck out and run into a black tie procession of christmas carolers making their way down the spiraling six floors of the guggenheim, and wati suprises me by spending half an hour on her own dime buying postcards from the gift shop. modigli ani, matisse, diego rivera, giorgio armani - high concept, high style - i'm thinking maybe we do have more in common than our histories and educations suggest.....











a bone-chilling & blustery walk down 5th avenue to the frick on east 70th street, wati's never seen such a huge and splendiferous home. "did people really live here?" she asks in disbelief, looking at the resplendent dining room with 18th century british masters on the walls and 17th century chinese ceramic urns on the highly polished antique furniture. "sure", i say, improvising from the free audio tour i'm hooked up to, "mr. frick used to have 26 people over for dinner 3 times a week." "but it looks like a museum," she protests". "well, it is," i say, "but those people were already half dead and stuffed when they came over to eat 80 years ago". she laughs, we steal a few illicit photos of mr. frick's finest, she loses one of her gloves somewhere in the vastness (making her personal contribution to upper crust 5th avenue society and art), and we shiver our way back to the lexington avenue IRT at 68th street. lumbering back to archie bunker's world of brick tenement livin g and happy house sitting, wati says, "i'm disappointed." "good english," i say, "why?" "no snow," she pouts. "wait," i say, crossing my fingers. playfully and impetuously, she persists, "i'm disappointed."











the next day we sleep in and appreciate the slower pace and quieter rhythm of astoria. i go out to get carl and anne's cheese cutter that i broke fixed and to shop for a last minute christmas present for my princess. she's still pushing for something from saks, as she stays home to do her face, hair, and nails. i end up coming home with packages of morning-baked, still-warm sandwich rolls, a pound of freshly sliced polish ham, some crumbled feta cheese, a colombian made cd of danceable "cumbias", and a bag full of those pink, yellow, green, and dark chocolate petit fours that i remember so loving as a teenager. (actually, they don't make it home.) walking these streets, i can't help but be reminded of the neighborhoods of my grandparents, russian jewish immigrants who came to america just before the 1920s to escape the tyranny of the new communist revolution and to raise their families on the lower east side of manhattan - delancey street, hester, ludlow, and in the brownsvil le section of brooklyn where my dad grew up. poor grocers, scuffling house painters, these old world immigrants worked hard, put their noses to the grindstone, and made their way through the rough times of the depression. they saved their money and raised their children to do the same a generation later, when one step ahead, after the 2nd world war, my father and his GI veteran buddies moved their wives and new families out to levittown, new york, america's very first suburb, and to the blue spruce and valentines roads of westbury, long island. to the split level and $18,000 ranch houses of respectability and upward mobility. only a stone's throw or chevrolet ride away from the other side of the tracks of the vanderbilts and whitneys of "old" westbury, but still a few generations, crystal chandeliers, and societies away from the sprawling estates and exclusive horse stables of america's true robber baron royalty of wealth, ruthlessness, graciousness, and privilege.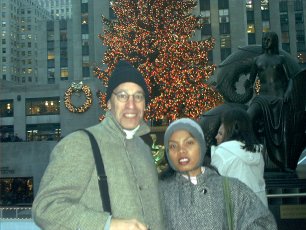 now with an immigrant culture no longer being supported by manhattan, where only the comfortably rich or lucky few can afford the stratospheric rents, the american dream still lures its new wide-eyed arrivals past the statue of liberty (and in an endless variety of other circuitous paths) - to the new york of the outer boroughs - brooklyn, queens, staten island, the bronx. with the rumbling el overhead. with the multi-family, triangled-roofed, attached brick homes flying their american flags proudly out front. with the ever-changing greek, spanish, indian, whatever, tower of babel cacophony singing in your ears on the crowded, bustling streets. with the strong-armed butchers and their bloody hands hanging their fresh carcasses out in their shop windows every morning. where you buy your bread, meats, fruits, vegetables, cheeses - european or 3rd world style - each from a different local vendor. where it all seems so much preferable to the immaculate and trendy flower delis on every street corner in priced-out manhattan. to the one stop trader joe designer grocers in LA. to the gourmet fairways and zabar's of the upper west side. to the luxury super markets of pacific palisades gelson's or westchester's corporate super market of the day.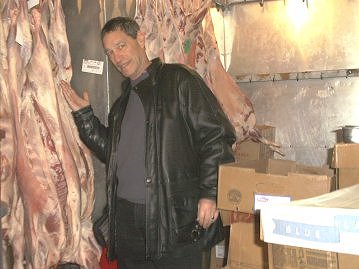 and yes, perhaps i'm romanticizing the plight of the working poor, who i know want to better themselves, educate their kids, and move into the middle class homes of respectability. just like my parents and my grandparents. because i know these places have their problems with poverty, crime, drugs, and the rest. and what do i, a middle class jewish guy with a job at a major university and a fulbright, know about struggling to pay the rent, putting food on the table, buying clothes for the kids, paying the phone bills, finding enough for a new tv, for the few necessary techno gadgets and air jordans? nothing? no, i don't think that's true either. because having traveled a bit, mingled with both rich and poor, lived on a hundred dollars a week for far too many years, and having seen too many of my over-educated and privileged friends - doctors, lawyers, professionals all - sons and daughters of that hard working, upwardly mobile lower, then upper middle class - not be able to buy or bring themselves happiness, i just think there's something to be said for simplicity, need, hunger, and desire... for the vitality of life that money and comfort alone can't buy or create. and walking around these seemingly safe, working class family streets of astoria - day or night - i'm reminded - yes, of my grandparents - but also of my years as a scuffling artist - dancer - clown - poet - con - and the sweet, contented sleep at the end of a well-spent, hard-working day of physical exercise, sweat, rehearsal, sometimes conflict, but always a day i gave the most i had to give. falling into bed at night -- exhausted -- but satisfied. i keep telling wati this every time she wants another oh-so-alluring "thing", and she of course replies with a simple "it's better to be rich than poor"; but somewhere in between - the worlds of blue collar astoria, modern dance, immigrant indonesia, and w orking for something that matters - lies perhaps, the reason we're all kicking and screaming, lying and laughing, our way through this human comedy of small victories, greater defeats, of loves, losses, & disappointments - this thing we so painfully and joyfully call - life.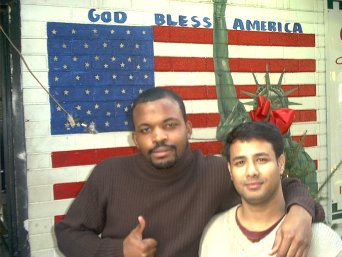 that evening we train into manhattan, now on our 17 dollar a week metro passes, to 9th avenue in the theater district. they call it the smorgasbord of international dining, "restaurant row". we're checking out the one and only indonesian restaurant zagat's has listed in all of new york. it's called "bali nusa indah" on 9th avenue between 45th and 46th, and i figure maybe i can please wati by organizing a little new year's eve soiree for my various new york friends from different paths, but before i can cross the street in my inimitable bred-in-new-yawk, jay-walking style, i walk smack into a rushing pizza delivering bicyclist. out of the blue. i'm looking at the oncoming traffic streaming down 9th, then back at wati. i see her scream, and wham! i'm knocked back about two feet (luckily) into the curb. in a confusing mili-second, i think it's a motorcycle - like the one i hit in LA when i had cancer and was on chemo - and i see and feel a flurry of images flash through my brain . the bicyclist's not so lucky. down he goes - bicycle, pizza pouch and all. he gets up holding his wrist, his face a mask of pain. i feel terrible and apologize, "sorry, man, it was my fault". he starts screaming at me in farsi - or something i don't recognize. i don't know what to do. i stand there watching him. i pick up his helmet. he grabs it from me and says he wants to call the police. i try to explain that there's nothing they can do. he insists. he's gonna file a report. a second later, a shopkeeper, bare-armed in a white apron, comes out & inquires what's going on. the bicyclist screams at him in his native tongue and the shop keeper replies, breaking out into a broad laugh. he's amused. the pizza dude is not. not knowing what else to do, i apologize again and walk off, with him still yelling after me. we cross the street (this time at the crosswalk), into bali nusa indah. i don't really enjoy the meal, or even feel like eating, spending the entire time half expecting to be accosted, handcuffed and carted off to the station sometime before dessert and coffee. fortunately, it doesn't happen, but i promise wati, who likes to obey the law and cross at intersections where it's safe, that i'll change my ways from now on -- knowing full well that you can take the boy out of new york, but you can't take new york out of the man.











after dinner, having deciding the place isn't quite upscale enough for new years eve for some of my toney new york friends, we head around the corner to 44th street, between 8th and 9th avenue. it's the final destination and pinnacle of our day. "birdland, the jazz corner of the world". birdland, mythical jazz mecca of the bebop fifties and sixties, named after charlie "yardbird" parker, formerly on broadway just a few blocks west of 52nd street, the hotbed of jazz in the 30s and 40s. not the low-end jazz dive like "slug's in the far east", the sawdust-on-the-floor tiny club in alphabet city in the east village where i once sat next to miles davis on a bar stool and was instantly surrounded by his coterie of sycophants the minute he graced the stool. feeling like the out of place suburban white boy i was, being at the right place at the wrong time - all these black new york hipsters talking through me, to the prince of darkness himself. "miles", the icon of cool, who would ra sp indifferently and condescendingly at them all, "wha's happenin'?" no, birdland was now the well-appointed jazz concert club, uptown in the new york theater district, where you could eat dinner before a broadway show at a hefty prix fixe and come back after the show for a "free" 11 o'clock set with a same day broadway theater validation. as i've said, the times in manhattan have been a changin'.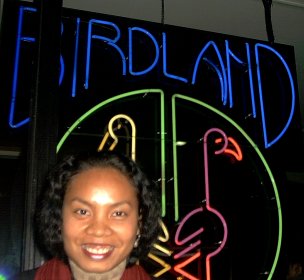 anyway, it's wati's first full blown new york jazz experience. i mean she's seen my friend, LM pagano, sing a few times at the local LA jazz alternatives, and i once took her to see the pretty out there 75th anniversary tribute to miles and coltrane at USC with herby hancock, roy hargrove, & michael brecker, but that was then, when she first got to LA, young, naive, and still oh so provincially balinese, and this is now, a year later --center of the world america, glitzy LA, sophisticated and cosmopolitan new york.... birdland. and this is the "definitive - lee" set, a tribute to trumpet great, lee morgan, with barrel-chested, goatee-ed, & black beret-ed joe lovano on tenor sax, muted eddie henderson on trumpet and flugel horn, delicate and innovative benny green on piano, steve kirby, bass, and winard haper, drums. we sit at the bar, splurge for the delicious looking calamari, order a black russian for wati, a godfather (scotch and amaretto) for me, and dig - it's a great set. wati's sitting behind me on the bar stool, facing the stage, and her fingers, playing on my back in syncopated rhythm to the beat, show me she's really into the music - and me. it's a great feeling, a little pygmalion-like, feeding your loved one something new, never tasted before, something she finds delicious. a little awesome in its power and responsibility. i mean what if she met someone else two years ago in kuta beach, was taken somewhere else on the planet? would she have been there last fall - in the sari club or paddy's irish pub, just half a block from her home, when her pissed off muslim countrymen took aim at and destroyed two vilified symbols of western occupancy and influence? what if? what if? never mind, back out into the night. a trustle of a train ride home, and that's it, say goodnight, wati. another full day - and night - in "new yorkrrrrr", our fun-loving, rolling indonesian "r" pronunciation for everything endemically new york.











sunday


sunday is another sleep in/r&r day, but after we take in scorsese's afore-mentioned "personal journey through american movies" at the museum of moving images, we head off into manhattan for another evening of window shopping, fun & frivolity. we get off the W train at fifth avenue (i never knew they had a "W" before - has it been named after our megalocowboy president?), and we exit the subway right into the plaza hotel at 59th and central park south. the elegant grand lady of new york hotels, we snap a few photos in the classically baroque lobby, fantasize having the budget to stay here, and make more realistic plans to come back for high tea another afternoon. then we spill out the revolving doors - past the lineup of black limousines and fancy dress doorman - onto midtown's fifth avenue -in all its last minute christmas glory. the sumptuously aesthetic windows of bergdoff-goodman (my favorite in the city), aloof and immaculate tiffany's, cartier's entire exterior f acade dressed as a red-ribboned christmas package, the streaming tourists (us among them), the twinkling lights on every street, the clear winter chill in the air, it's why christmas in new york has always been for me - the perfect holiday destination.











next - over to wollman's skating rink in central park, where, when i wasn't playing ice hockey with my rag tag teenage friends on westbury pond on lon-gisland - no entrance, no admission, just frozen pond - i would occasionally come into the city to skate at the well-manicured, snow plowed, and perfectly glassy wollman rink. now completely overhauled by donald trump, new york's biggest real estate magnate, with 8 dollar and fifty cent admission, 4 dollar and fifty cent skate rental, and a 3 dollar and seventy five cent locker, it's since become both a romantic and family-friendly, state of the art skating experience. it takes a while for me to convince wati to actually lace up her skates and to walk her over to the entrance of the rink, but it's certainly worth the wait. of course this indonesian girl has not only never seen snow, but neither ice - except in the movies. so it's no wonder that she has absolutely no concept - or ability - to skate. as i carefully watch her step out onto the ice and simultaneously act has her anti-gravity post, i'm subconsciously brought back to the time of my own first few falting steps onto ice. if you can't remember - or never had the opportunity - it ain't easy. you have no idea how to push off one skate and slide onto the other - or both. you just stand there pathetically sliding both skates back and forth - in place - until you fall down. which she immediately does. then tugging and climbing on me to get back up - desperately i might add - trying frantically not to look too "malu", she naturally pulls me down on top of her. after repeating the duet several times, we get her over to the railing and attempt to teach her the basic principles of - ice skating. she tries, flops many more times - sometimes very spectacularly - looking like a spastic twister player (the ice can do amazingly sudden and contortionist things to a human body) - and every now and then sends me off into the rest of the circling crowd for a once-around-only independent spin. i appreciate her generosity and awkwardly attempt to remember how i used to be such a graceful and tenacious whiz on ice. end result, we laugh a lot, brush ourselves off a lot, and eventually, young wati learns to get around the rink without holding onto the railing - just onto me. i congratulate her and am very proud. hearing shania twain, snoop dogg, and bing crosby croon pumped-in christmas classics – although still no snow - i know she's done something most indonesians will never even imagine doing - except in the movies or in their dreams.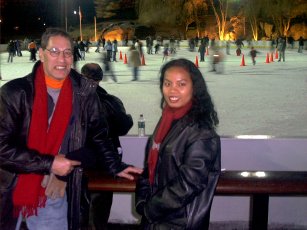 the next day, we've gotten the routine down – we sleep in, hang around, and save our energy for manhattan. it's now christmas eve, and wati is bugging me incessantly for her christmas present. i tell her it's not the american way. santa comes at night – reindeer/sleigh - and the presents are opened in the morning. "not trrrrue!" she whines, doing her utmost to attack my resolve. i stubbornly prevail, and present still under flanigan tree, we return to the scene of the night before – 5th avenue and 53rd street. but now it's pretty quiet. the last minute shopping over, FAO schwartz and the other christmas factories closed, most new yorkers are home around the fire - or tv - waiting for santa to come down the chimney. except of course, for the religious practitioners; they, and the in, and out of, town tourist hordes have flocked to churches all over the city to see and hear the music and pageantry of midnight mass or christmas eve service. wati and i go to st. thomas, just up the street from mighty st. patrick's, and wait on a line about two and half blocks long. the couple in front of us is kissing, and wati is smiling her awkward provincial smile since the couple consists of two men. it's a lot to adjust to, i'm sure - america, LA, new york - freezing cold, bizarre new sights & customs, gay couples kissing on the streets (probably something two men could be jailed for in her country) - i'm sure i'll never know exactly what it feels like - but she's more than up to the task. she's a quick and curious study.











when we finally get inside the old gothic beauty, it's almost full. we get seated on the side balcony, with a great view of the hanging chandeliers, the massive stone architecture, the organ pipes, and the congregation below. the service begins at 10:30 with festival music for trumpet, strings, and organ by georg philipp telemann. it's absolutely beautiful, and although i'm not at all a religious person, i do have a contented feeling of peace and serenity sitting there amongst the congregation of visitors and believers. the "great procession and solemn eucharist of the nativity" begins around eleven, where the frankincense-swinging lead clergyman is followed by the line of sweet singing choir boys - in size place order, then by the senior choir members (all men), then by the senior clergymen and rector, also in order of seniority. i'm sitting there loving the spectacle, trying to push any thoughts of tawdry sexploitation out of my mind. hell, it's christmas, i say to myself.< SPAN style="mso-spacerun: yes"> we last about an hour and a half, and leave with most of the other tourists during communion. i tell wati, being christian, that she can stay or take communion, but she smiles and says, "i'm jewish now."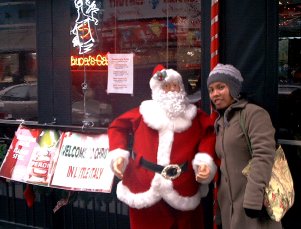 christmas


well, it's christmas day now. the moment of truth. wati tears open her present - a sexy silk sleeveless dress from thailand that i found on steinway. i have my fingers crossed that it fits. she pulls it over her head, and it slides down over her hips. it does. fit. perfectly. sexy and nubile. classy of course. success! i open mine - a manly black cable stitched sweater that i've chosen the day before at a closeout on broadway - and - we bundle up. longjohns, turtlenecks, three more sweaters each, hats, gloves, and two cups of hot green tea for extra fortification - and we take the elevator down into christmas day. it's sleeting. madly. we take a look at each other, and march back into the elevator. two like minds - one young indonesian, the other an old new yorker - and we sit in front of carl and anne's 300 channeled cable tv. until about eight, when as predicted, the sleet has turned to snow for the last three hors, and we re-bundle and emerge from the building into a winter wonderland. yep! it's the first white christmas in new york in 30 years, and wati is sure it's just for her. it's the most excited i've ever seen her. snow! falling from the sky! she's squealing, insisting we go back up for our cameras. "it's too dark", i say, "it'll be here tomorrow. don't worry." but i know it's completely hopeless. we go back and get the cameras and click away. wati under the street light - in the snow. wati ma king a mini snow man. wati throwing a snow ball. she's already wanting to transfer the shots to my computer and e-mail them to indonesia. she's forgotten but one thing though - my computer on the dining room table in LA. oh well, the pictures can wait (for sending only; not for taking.) we proceed down 35th avenue, cars blanketed in four inches of snow, and smile at some hearty neighbors who are already digging out, although the storm will probably last another three hours. by the time we walk back from the kaufman astoria movie theater (we're not quite up for the three hour "gangs of new york" which will end at 2 am), wati's already used to the snow. she has more practical things in mind. like - "what's to eat?"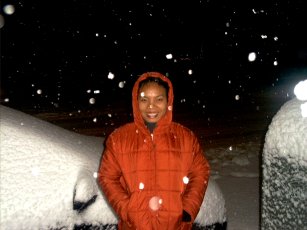 brooklyn's 14th ward. it's where my main man, henry miller, grew up and wrote so passionately about in his books like "black spring" and so many others. the original seed bed of the artist. where he could remember and mythologize the colorful characters from the old neighborhood. the bullies, tailors, drunks, cops, snot-nosed playmates of his childhood. me? i grew up in westbury, long island, the middle class suburb of the conveyor-belt 1950s, where sure, i was the target of some nasty irish and italian anti-semitism, but where my friends were mostly a homogenous group at scholar-athletes who pretty much without exception, towed the line, didn't break any laws, and went on to become - as expected and paid for by their 2nd generation jewish american parents - doctors, lawyers, and indian chiefs. we weren't all that colorful. at least not outwardly. maybe our dreams, desires, fantasies, and frustrations were - at least i know mine were - but not our good boy and girl, make your parents happy, every day behavior. hell, in 7th grade, before even becoming a teenager, me and my high-testing grade school friends-to-be were separated out of the general student population for our IQs and put into pure-bred "e" classes. "accelerated" classes where the over-achieving board of education and our grateful and aspiring parents wanted to give us "better" teachers and "better" chances of getting into the "best" colleges. no matter that we were ostracized by the regular kids for our smarts, and weren't invited or expected to date, socialize, or have normal adolescent lives any more. hell, coming home from 6th grade graduation in our 1958 chevy impala, i begged my mom not to put me into these special classes with nicky rosenfeld, the genius nerd with the three inch coke bottle lenses, sensing all to well what might become of me if she did. but mom insisted, telling it would be "good for me". and what did i, the parent-pleasing child, who never had a thought of eith er having, or taking care of, needs of his own, do? that's right. i spent the next 6 years in e-classes, being spurned by my former jock friends, never having a girlfriend or going to the prom, and spending most of my early adult years compensating for and recovering from the trauma.











well now it's the day after christmas, and i'm on my way with wati to a mini high school reunion of sorts - at the bali nusa indah restaurant. instead of new years eve, i've arranged for a thursday night dinner, and gotten four old high school buddies - and their spouses or unmarried partners - to meet us there for a taste of the unknown, wati's delicious indonesian food. now just as i was saying how homogenous we all were in our high school, adolescent years, i think i can also say with assurance how we more than compensated in becoming neurotic, individualized adults. of course, most made their way along the convoluted but predictable paths of middle class jewish life, yet just about each and every one, no matter how close to the script they tried to stay, ended up with a unique and un-predictable outcome. except for me, of course, who pretty much left the planet of jewish expectations very early on, lived a comparatively wild, bohemian life for going on 35 years now, yet i n my own way - with a college job and a professional title - am an apple that hasn't fallen too far from the tree.











no, we haven't turned out to be cops, crooks, drunks, or embezzlers (not that i know of anyway), but 2nd grade, summer camp, & college roommate stevie, did surprisingly, first marry a flighty brazilian airline stewardess - followed by a matriarchal countess from spain - in his two problematic forays into marital bliss. he now lives alone on the upper east side of manhattan in a monastic bachelor pad, indifferent to the high end and other worldly concerns of woody allen and other NY celebs at nearby famous "elaine's". he's been a public defender for over thirty years, defending most of mr. miller's rowdiest and scummiest friends from the lowest echelons of new york's recidivist crime world at 100 center street, and he's still the guy who can make me laugh with the smallest comment or gesture, just like he did when we shot paper baskets into his mother's favorite antique lamp shade, or kidnapped our evil college nemesis, harriet rolle, when she slashed our car's tires in an escalating saga of vicious college pranks and revenges. there's dr. dave, who always knew he would become a practicing shrink, but never knew that he would become an ageing psycho-pharmacologist, prescribing modern day wonder drugs to unhappy suburban housewives in broookline, massachusetts, watching his own emotional balance and body abandon him as his long term marriage fell apart, throwing him into an indeterminate period of ill health and grieving, even as he developed a new life-saving romantic liaison on manhattan's upper west side while reluctantly having to watch his precocious 17 year old super daughter go off to college and her own unpredictable challenges and discoveries of young adulthood. then there's labor law bob, who was always the handsome, cocky, most likely to succeed type in high school, but who after discovering himself immersed in the radical and social politics of the university of wisconsin's 1960s college hippie maelstrom, escaped the vietnam draft b y fleeing to the left-leaning london school of economics. thereafter, he humbly and nobly returned to work representing the communication workers of america, only to find himself undiplomatically cut loose by his contentious brothers & sisters. yet phoenix-like, and once again responding to his own self-assured survival instincts, bob formed his own still-left-leaning labor firm, succeeding in a very short time to become a wisely-invested, two home-owning domestic bobo type, who, still true to his left-leaning principles, never married but has lived happily & monogamously with the same woman for the last ten years.











of course there's the nearly-retired and well-off aforementioned katz from C, K, & L hardware on canal, still living out on lon-gisland with his first wife, who's just visited his first granddaughter off the coast of spain on the trendy island of ibiza. and big larry, now out in the sticks of tuba city, arizona, having passed yet another state bar, after crossing the country several times with his dual penchant for placing small bets on the weekly football action in vegas and his more all-consuming and self-absorbing passion for the international s&m "scene". a colorful lot, i would say, for our run-of-the-mill middle class roots. there're plenty more rumors, crimes & misdemeanors to be told; it's pretty easy to catch up in between the delicious indonesian rijstafel and the thai beer, and when we go over to dr. dave's new honey's pad in donald trump's new west side tower on west 70th street and the river, the stories fly, the truth wanes, and the memories and fant asies take flight. the partner/spouses fade into the plush living room couches, but checking in with wati, she says something very generous and reassuring, "if you're happy, i'm happy." i smile. the evening seems to be a success, and i'm thinking -- henry wouldn't be too ashamed...











on the way home, somewhere on the N train between queensborough plaza and 36th avenue, my throat starts scratching in that doomed way it has of letting me know i'm in for another bout of winter flu. i've just gotten over a two month wrassle with one all fall, and now after just nine days of new yawk nostalgia and adventure, i'm in for it again. i spend the next morning combing the streets of long island city and astoria for a pharmacy that has oscillococcinum, the sexy swiss homeopathic remedy that if you take it early enough, just when you feel the first signs of getting sick, it will deny the cold or flu. a new age wonder drug, along with "ganmaoling", a miracle anti-viral chinese herb sold in bottles of bright yellow pills, i usually travel with these two staples as part of my hefty stockpile against psychosomatic and real sickness on my jaunts around the world. no middle american dristan, contact, or robitussin for me! of course, i've run out of the oscillococcinum, and finding homeopathic remedies in the hinterlands of immigrant queens is about as easy as finding a bloomingdale's in the middle of kansas. i go to five different drug stores along broadway and steinway avenues, and along with three of five pharmacists never having heard of the word "homeopathy", naturally none of them have what i'm looking for. fortunately, the last one tells me there's a health food store another three blocks away, so now sweating with exertion and my now not-to-be-denied flu, i find the place, and spend fifty bucks on the swiss remedy, along with 2 other miracle cures the bengali proprietor swears by. i pour the vial of little white homeopathic pills under my tongue, and two hours later, af ter they've dissolved to do their homeopathic magic, i start dousing myself with 3 foul smelling brown "wellness formula" mega pills every four hours in a useless ritual of naturopathic cure. bottom line, i'm sick for the rest of my new york holiday.











we start making more limited sojourns into the city. friday and saturday we stay home altogether. there's still the problem of no plans for new years' eve, but i health dose myself and rest, while wati mtv's and shops. we do at least manage to make it to the kaufman astoria 14 plex to see "gangs of new york". it's powerful, violent, and beautifully filmed - all scorsese trademarks - but also a little oblique. you watch and listen totally enthralled, but somehow wonder what the hell they're all saying. daniel day lewis' charismatic, megalo-violent "butcher" is certainly worthy of a new york film critic's award, but what strikes me most about the movie is - the history. on the same mean streets as his italian gangster and little italy personal films, scorsese has researched and offered us an historical filmmaker-poet's fantasy of what mulberry street was like before the arrival of his forbearers. during boss tweed's time. and lincoln's unpopular civil war and draft. with german protestant and irish catholic immigrants. with crime, graft, bowery boys, swindlers, hustlers, crooks, cons, killers, and dead rabbits. weaving fact, fiction, imaginary and real characters into a fabric about a time when new york was still an uncivilized, hurly-burly city of gangs, territory, corruption, violence, and turf. where butchers ruled with bloody hands, and the most admirable and respectable activity was brutal vengeance upon a worthy and principled enemy. the film is yet another re-visiting and re-considering of my native new yawk. from peter minuit's "stealing" of manhattan from the welcoming and awed indians in 1626 when he got the chiefs of the five iroquois nations to accept a few trinkets and blankets in exchange for signing an incomprehensible document that gave the dutch ownership of the skinny island of manhattan in perpetuity - to boss tweed's corrupt & violent tammany hall a century and a half later - to the more familiar and recent history of september 11th's catastrophe of the shining twin towers - new york city has not always been the sophisticated lady of black tie elegance and easter parade sundays down 5th avenue.











another sunday


on our next sunday, we adventure into harlem, the huge upper manhattan ghetto of new york's african americans. running from 110th street above central park all the way up to the cloisters and grant's tomb at the top of manhattan, formerly of langston hughes, zora neale hurston, w.e. b. du bois, duke ellington, and james baldwin fame, now home of bill clinton's new office on 125th street and lenox avenue (aka malcolm x boulevard), harlem was always an off-limits, scary but alluring place that my parents instilled enough fear into me about, that i'm ashamed to say, i had never visited before. with institutions like the cotton club, the savoy, & the apollo no longer being the original breeding grounds of jazz, poetry, and black creativity that they were during most of the 20th century, still the abyssinian baptist church on 138th street offered wati and i a destination full of the promise of gospel music and religious fervor. we make it up to 135th street by subway around 12 o'clock, already half way through the second sunday service. turning the corner onto 138th, we see a family of four caucasians walk down the street towards us with an open "guide book of new york city". i know immediately i'm more than safe. this place seems just as comfortable and neighborhoody as queens. shit. another inadvertent scam my parents had pulled on me.











we make it to the entrance of the church. there are two long-coated black church members standing out front. apparently the church is completely full. we can't get in. "please", i beg, "we came all the way from california -- and indonesia." "really?" the number two guy says, offering to plead our case to number one. the tall fellow looks us over, as yet another tourist group approaches down 138th street from lenox, thereby nixing any chance we might have had. in his deep baritone, making me hungrily imagine the dulcet tones of the full abyssinian baptist choir, he says, "sorry, even the stairwells are full. come back next week." "but we won't be here next week," i explain, trying to push my case as far as i can. "can't we just stand in the aisles or something?" "no, sorry. there's nothing i can do." "but can't...?" at this point wati has walked back up 138th street, leaving me pleading a case of one. she gets impatient with my insistence and stubbornness. i've explained to he r many times that not taking "no" for an answer and being the squeaky wheel often gets the attention and can change the outcome of things. but true to form, she's simply - impatient with me. and she's getting near lenox avenue now - in harlem. by herself. hell, i say, admitting defeat, if you can't beat 'em, join 'em.











so we turn the corner onto lenox and head back downtown. we spy a small neighborhood eatery with an inviting sign in the window, "soul food/sunday brunch", so grabbing victory from the mouth of defeat, we enter. wati orders the southern fried chicken with pecan waffle and collard greens; me - the louisiana catfish with grits. they both come piping hot from the kitchen with a small basket of homemade corn muffins, freshly baked in the shape of hearts. nice. when i inquire about any local music events in the neighborhood, explaining our disappointment in not getting into the church, the proprietress goes across the street to her house and gets us a gospel CD. nice again. we finish brunch with a smile and continue down lenox avenue. wati stops into a local beauty salon and buys two indigenous hair products for her ever-thinning hair dilemma, and i find a street corner jazz cassette hawker and buy three hand-titled tapes: sonny rollins, duke ellington, and john coltrane - for only five bucks a pop.











now we're past mr. clinton's modest-looking new office building, strolling down lenox at about 116th street. suddenly i hear the unmistakable sound of sunday worship - gospel style - and look around. it's coming from a small basement with a baptist church moniker over the stairwell. we descend - me enthusiastically - wati with a more reluctant indonesian laurel & hardy "what kind of mess are you going to get us into now?" look on her face. we open the door to a room full of singing and arm waving worshippers; it's about a hundred and ten degrees inside, and with us completely wrapped for the winter cold, i'm hesitant to enter. i poke my head through the side door and watch - as the preacher's preachin', and the organ player's organin', and the 50 person congregation is congregatin' - complete with full on outbreaks of god-worshipin' "hallelujah"s and "praise de lawd"s. as i'm trying to squeeze wati and i into the back of the tiny room, one of the church members signals fo r us to come down and take two seats. i signal back a gracious "no thank you", but she's already asked two kids to move, so - having been made an offer we simply can't refuse - we walk down the aisle and sit. part of me is expecting the preacher to stop right in the middle of one of his "praise gawd's, and have the whole congregation turn around to stare at me, the downtown honky and his brown-skinned girlfriend. but it doesn't happen. the service continues, we take off our coats, and start sweating the with rest of parishioners. mercifully, the service is just about over, but just when we're ready to grab our coats and slip out again, the minister suddenly asks for all the newcomers to rise and introduce themselves. great. there are two other guests - and us. i introduce myself, "my name's gino. i'm from california, and no, i'm just passing through. no unfortunately, i won't be able to come back next week." and then the minister says, "and the sister?" everything stops. all eyes on wati. i signal for her to stand, and shooting me a look of fire & brimstone, she does. "hi, i'm wati," she smiles. "where you from, sister?" "indonesia", she says softly. "indonesia!" the minister booms, "i don't believe we've ever had a church member from indonesia. welcome." "thank you," she smiles, looking genuinely pleased. thank gawd, i say to myself, as the service ends, and we spill back onto lenox avenue and onto the number 3 train again. the cold air seems to have no effect on us as we trundle back to long island city, a bit more spiritually "experienced", as jimi hendrix used to say. new years eve is beckoning.











the days are rushing by - just like the train stations on the long island railroad: "massa-pequa, massa-pequa park, mine-ola, carrrrle place, weeessst-bury...". my dad commuted to manhattan five days a week from the nassau county suburbs for forty years. from the westbury train station to 40th & broadway. heineman & company. new york's textile (or "schmata")business. my mom dropped him off at the train station at 7 in the morning and picked him up - sometimes with me in tow - at 6:15 sharp. dinner at 7, meat, potatoes, green peas or another delicious frozen vegetable, we were the beaver cleavers of the suburban conveyor belt. homework, good grades, a little b-ball in the local school yard after school, david jansen in "the fugitive" at 10 o'clock on tuesdays (once my mom determined i was old enough), i was the "good boy" and we were the typical jewish american family. (well not quite, my parents never did join the local community jewish synagogue.) too bad i wasn't en couraged to find out who or what i was. what i liked, how to separate myself from the idea of pleasing my parents. too bad i was too embarrassed ("malu"!) to take a dance step, sing out loud, or ask a girl out on a date. too bad it took ten or more years of violent, anti-social, and painful rebellion to break out of the mold of lon-gisland expectation and conformity. thank the universe for the sixties, sex, drugs, & rock 'n roll. for my '64 pontiac that took me out of new york on the first day of spring, 1970, on my bob dylan-jack kerouac personal odyssey, up and down america like it was one big map. bringing me to chicago six months later - and to modern dance, self expression, and young adulthood. 7 years there finding myself a young artist in the windy city, 5 back in new york being a clown, 20 more in LA being a poet, actor, filmmaker, monologist, producer, professor...











"14th street, 34th street-penn station, 42nd street-times square" - the stops, the days, the years are hurtling by. these two weeks in new york are re-connecting pieces of my life like a giant jigsaw puzzle. seeing childhood friends, college buddies, chicago dancers, ex-clowns, even a recent friend from malaysia doing a new show at "theater for the new city" on 1st avenue in the east village, 50 something years is a long time to be connecting the dots.











new years


well, it's finally here. new years' eve. and i still haven't nailed down a plan. no fancy dinner as promised for the princess. she's again "disappointed". what's the name of that great indo chinese restaurant right across from the public on astor place? damn. i can't remember for the life of me. well, at least we have an invitation to west beth to hang out with gayle and some strays who are putting together a last minute nothing-else-to-do new years loft soiree. but it doesn't sound too party party. more like an AA miss lonelyhearts singles meeting. i don't think wati's gonna go for it. what's the name of the damn restaurant? and why haven't any of my so-called friends invited us to some high class ring-in-the-new year bash? should we just go to times square and get crushed with all the rest of the drunken, horn-tooting maniacs there to watch the big shiny 2003 ball drop from one of those new giant skyscraping video screens?. nah. we heard on the news you had to be there a million hours beforehand, that the streets were barricaded, the subway exits sealed, and you couldn't leave once you got by security. no back packs. what a great terrorist target.











"rrrring!" the phone. yes! saved by the bell! it's dr. dave and his lovely new girlfriend calling to invite us to a new years' eve dinner. just the four of us. at donald trump's new residential tower high over the hudson. nice. home made bouillabaisse. fresh catfish, shrimp, scallops, clams, mussels, & crayfish. hors d'oevres galore from the fancy fairway. very uptown. i know it'll be a hard sell for wati, but i try. "c'mon honey, it'll be great. quiet. not too crowded or noisy. good food. nice people. new years' is usually just such a waste of time. a big disappointment. you already got a nice christmas present, a white christmas, two out of three ain't bad. i'll take you out for a nice dinner before we go." "but errr-eeek. you promised!" "yeah but --- blah blah blah…" she finally agrees – seemingly good naturedly – and we have a fine… quiet new years eve. we watch dick clark, jay, & dave ring in the new year on the tube (just like all the other non-new york schmucks in the world), and take the train home to queens. right under 42nd street and times square. still no exit .











news years day


is icy. sleety. nasty. we stay in 'till 5, and then brave the elements into lower manhattan – to a new years day party we were invited to by david schweizer, a los angeles-new york theater director acquaintance we ran into way back at the guggenheim. it's in an old fashioned, very funky artist's loft on fulton street. i think it'll be interesting for wati, and since i used to live in a loft on 23rd and park for several years until i unceremoniously left for the allure of tinsel town and other false promises, i want her to see it. she does. she's not impressed. she says in very good english, "it's the ugliest place i've seen in new york." "no, wati, it's… cool." "ugly." "c'mon, it's not." "ugly." she's pretty stubborn when she wants to be. "the people are ugly too." i see there's no winning this argument, so after filling up on delicious new years' ham, saying hello to far-out performance artist john fleck, and thanking mr. schweizer, we retrace our steps through the bowels of manhattan and trudge our way back home.











the end is nigh


on our last thursday morning, still in the middle of a nasty spell of sleet & rain, a young ecuadorian man picks us up in long island city. he's brown skinned, the same color as, but even shorter than wati. he says, "5 foot one, just made it into the navy." he's ernesto '"ponty" lopez, the youngest member of the "cumeezi bozo ensemble", NYC's resident clown troupe, from 1977-1982, when he was a roly-poly, irresponsible 19 year old. when he was rambunctious, lovable, and reliably late, the "resident genius" of the troupe, a born to be clown. now a stocky and mature father of two now, ages 14 & 15, married for 18 years to the same colombian woman, ernesto/ponty's still clowning. on weekends. for parties & special events. for the love of it. when he's not working as a licensed teacher and early interventionist for NYC's public school kids. we've kept in touch over the years, mostly by e-mail; i last saw him when he was in the navy in 1985, stationed in oceanside, california. he's read of my changes and adventures over the twenty some odd years with interest and zeal, enthusiastically reading and sending them to his children and younger brother, abraham, who's grown up to be a physician's assistant. perhaps he's romanticized the life of the dude who was such a seminal and life-long influence on him. who as a teacher and director, made him into the clown, i mean the man, he is today.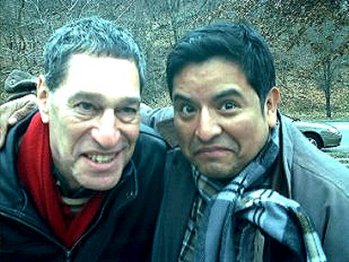 "let me take you guys out to the island," ernesto says. i think he means malverne, the town where he lives with his family on the south shore of lon-gisland. but after he puts us both in the back seat, taxi style - he used to drive one part time back in the cumeezi days - he says, "why don't i take you out to westbury." i can't say i wasn't thinking of it myself, so off we go. the BQE (brooklyn-queens expressway) to the van wyck to grand central to northern state to the meadow brook parkway, we exit at old country road, right at roosevelt field. i hardly recognize the place. it's old mitchell field, where charles lingburgh made his historic "spirit of st. louis" transatlantic flight from in 1927, since developed into one of the very first suburban megamalls in the country. the model for real estate developers and teenage shoppers around the world for the next half century. we make a left turn off old country road onto post road and head into the quaint and unchanged of town o f westbury circa 1950. there's the old train station, of mom pick up dad fame. the old "westbury" movie theater marquee, where i watched vincent price as a terrified 10 year old, through clenched fingers over my eyes, in edgar allen poe's blood curdling "the pit and the pendulum". (making me a non-fan of horror movies for the rest of my life.) but look, the theater's now called "westbury performing arts center". it's no longer a movie theater. and -- it looks like it's been boarded up for years. and there's "gino's pizzeria", right where cantor's deli used to be, the place where every sunday morning like clockwork, dad and i used to pick up the lox and bagels for our ritualistic twelve o'clock brunch. there's a picture of mickey mantle on the wall inside. "the mick", the muscle bound yankee slugger from rural podunk oklahoma, who in 1956 & 1957, when he won the triple crown, was my, and a lot of other new yawk baseball card-collecting youths' boyhood hero. and look, there are a lot of other stores that weren't here 45 years ago. hair salons, and italian restaurants, and--. i laugh to myself -- the bubble of childhood memory gently bursting as it's unsettlingly confronted with modern day reality.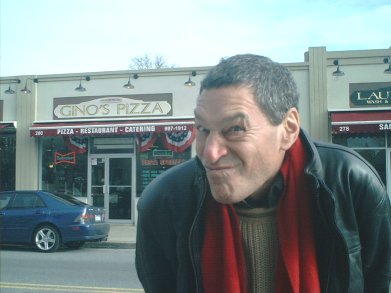 okay. next on to eisenhower park, called "salisbury" park back when i was a boy and chased errant golf balls hit over the fence with my boyhood friends. racing down the street (salisbury park drive) like mercenary maniacs, diving into the grass of neighbors' yards, wrestling with each other to the death, to see who would come up with the ball to go back across the street and sell it back to the irate duffers, who would sometimes hop the fence after us, but more often pay the price of over-zealous hooks or slices, depending on whether they were right or left handed. hell, we could get 25 cents a ball, a buck when it was a mint "titlest 1" or "7". that is, if it had no nicks or cuts in it at all. a left turn again onto valentines road past the old house of barry kalif, the half-witted dentist who must have filled more than half my mouth with future-cracking silver. up to 1969 valentines road, across the street from ginger, the golden palomino, the house where i grew up from five to 18 years old. the house that joe and roz (my parents) bought in 1952 for $26,000 that they then sold for $75,000 in 1978, that is perhaps now worth $450,000. a little 3 bedroom ranch house, with knotty pine den, and added on backyard porch. with dad's messy carpenter's workshop in the basement, that mom kept strictly off limits. but where my dad magically turned beautiful cherry wood bowls on his spinning lathe, and joined perfect joints for inlaid mahogany wood kitchen tables, and precisely glued and hammered entire wall units and french scroll top desks for my sister and i, who used to race down the gray carpeted hallways every saturday morning in parent-waking fury after yet another nail digging, hair pulling fight to the death over who cheated at the simultaneous solitaire card game of "bongo".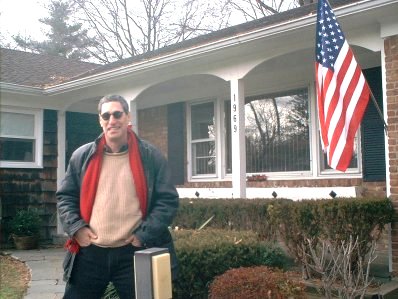 ernesto encourages me to knock on the door. wati thinks oppositely. people don't walk up the path to disturb neighbors in indonesia, i guess. but i take ernesto's lead and a dark-skinned, fearful-looking woman opens the door. i explain my business - that i used to live here as a child - and she abruptly shoos us away. (is she from indonesia?) we walk down the slate path and i marvel at the neighborhood. there are no giant oak or maples out front, the ones that sometimes came crashing down into the yard, or whose roots made a mess out of front yard septic tanks, during late summer hurricanes that used to both terrorize and thrill us as kids. there's no forrest-like stable and grazing yard for ginger the golden palomino across the street ; it's been cut down and developed into a pricey looking cul de sac of well to do split levels. they even cut down the old- world, rumored-to-be, "eleanor roosevelt" family house across from the rubins down the street. in fact, the entire stree t and neighborhood look so well-manicured, so tame, to what i remember it as, when me and my friends used to raze the newly built houses as they were being constructed, scaling rooftop asbestos shingles through newly paned bedroom windows, or play king of the mountain on piles of dirt and sand meant for concrete foundations, until exhausted and black-faced, my dad used to whistle me home for a bath, homework, and dinner.











someone comes to the front door again. it's an enthusiastic, bright faced young girl and she asks what we want. ernesto pipes up, "this is mr. trules and he used to live here back in the 50s." "oh wow!", she says, "let me get my dad; he's in the garage." sure enough she does, and a gray goatee-ed, "american"-looking guy comes out of the old garage and introduces himself. "i'm henry wilco. can i help?" ernesto again: "this is mr. trules and he used to...." "oh yeah," henry says, "that's the name on the original deed." we all stand around somewhere between amazement and "what should we do now?" henry picks up the ball, "you wanna come in and take a look?" "sure," i say, thinking of the first door opener, "if it's no inconvenience." "no problem," wilco says. and so we all go inside. there's the front hallway, the little alcove where my dad had all the "hi-fi" equipment, the brother and sister combat hallway, and - my bedroom. "look! my dad's shelves and cabinets are still there! " "really?" the wilcos say. "did he make that? it was here when we bought the place from the second owner." "yeah, of course, but there's no yellow wall or cowboy mural anymore," i say. "and you have a computer on the desk now." we laugh. "do you mind if i take a few snap shots? i'm sure my father and sister will get a kick out of them". "no problem," wilco offers again, in his no nonsense new yorkese. we snap away. shots of the bedroom, living room, the "1969" sign post out front. (you can't imagine how long we waited for that year to come around!) wati says" errr-eek, let's go." i say ok, thinking she's bored or impatient, but once outside she tells me the unfriendly woman, who we're introduced to as being the live-in helper, has that unpleasant look of disapproval on her face again. so we're out front again, thanking junior miss and dad wilco, and henry is showing us his taupelin-covered race car in the driveway "that goes from zero to sixty in one second". i find that hard to fathom, as we more leisurely take our leave, and drive past the former homes of fishers, silvermans, and siegmans, now lo oking so much smaller and more conservative than my pumped-up memories of childhood.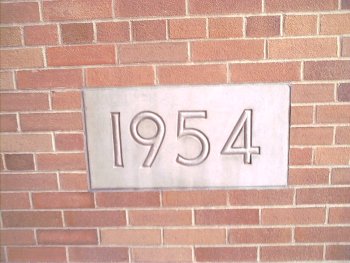 we drive past salisbury elementary school, where i take a picture of the 1954 cornerstone that me and jeannie bernstein were chosen by 2nd grade miss crowley to dedicate as our class reps. and then through the parking lot of "william tresper clark high school", where me and steve shapiro were almost run down by the '59 chevy of "big ed" danowski, our high school gym teacher, who apparently was once a big shot quarterback for the new york football giants. even the parking lot, with its dirty december melting snow, looks small. along through the old "birchwood" development. past childhood friends' 50 year old houses and domiciles of the nubile, forbidden female fruit of teenage lust. ernesto taxies wati and i back onto old country road, back through the town, on to the old post road of the vanderbilts and whitneys. it's still pristine. beautiful. gracious. old north shore lon-gisland wealth. as much as valentines road and the old neighborhood seem to have diminished, these old estates and their exclusionary brick walls seem to have not. as if the vietnam war, the assassination of the kennedys, the counter culture, the failed social experiment, the baby boomers, the hippies, yuppies, buppies, bobos, & dotcoms – all had no effect whatsoever on the inscrutable wealth of the old guard. …past old westbury pond of ice hockey lore, and old westbury gardens; past northern boulevard, to the top of the island, glen cove boulevard. ernesto remembers some nice little chinese restaurant in the town where they serve unlimited glasses of white wine with lunch or dinner, so we stop off and fill ourselves on cantonese egg rolls and wonton soup, barbecued spare ribs, chicken with broccoli, pepper steak, and my childhood favorite (that you just can't find in LA for some reason), shrimps with lobster sauce. it's great, and brings me right back to our other sunday night family ritual, "going out for chinks"!











our last sunday


"the chinks", along with other embarrassing and naively, politically incorrect memories complete our day on lon-gisland with ponty/ernesto - and finally, our stay in new york. i've run the gamut of memories and emotions, and wati's had her sexy, strapless christmas present, her miraculous snow, and even her substitute new years' eve dinner – that turns into lunch - at the 2nd avenue deli in the east village. mountainous corn beef sandwiches, matzoh ball soup, cole slaw, pickles, french fries, and brown's cream soda.


so now we're back on the plane to lala land, still not having visited the empire state building bloomingdale's, the public theater, or my old clown loft on 23rd and park. i do manage to show wati the infamous hotel woodward on 55th and broadway, former home of such luminaries as bela lugosi, art carney, & jayne mansfield, where i also lived in the late 70s back in the heyday of studio 54 (just around the corner, where both gino and i were frequent late night revelers). unfortunately, it's not called the woodward anymore; it's something like "the madison", or some other innocuous, sanitized name. they've cleaned it up along with the rest of rudy guliani's midtown paintjob, but i went inside the lobby, and rest assured, the ghosts of bela, ed norton, jayne, & gino were still alive and well, swirling over & around the new stuffed couches and digital tv screen, remembering the good old days of hunger, whimsy, and celebrity.











as the plane lifts off the runway of ice cold JFK, my head is spinning with new york. images of repressed childhood and explosive adulthood. of attachment and separation. of lox & bagels and sunday chinks. of gino cumeezi running for mayor in a clown suit against flamboyant ed koch. of hitting hizzoner on his bald pate with a squeaking plastic hammer. of all the cumeezi bozos, their strong hearts and hard work; their time, sweat, passion, & energy. of bristly and brilliant lee strasberg trying to teach a younger and leaner version of myself how to create an imaginary, "sense memory" coffee cup in my hands - for the 10th week in a row. how i hated his indifferent and unbending willfulness. images of suburban houses and cheap hotels, of grants gotten and more not. of timeless friends and sexy women, of new buildings climbing to the sky and two towers crumbling to the earth. of the plaza and pierre, the waldorf and woodward. of st patrick's and st. thomas, temple sholom and my reluctant thirteen year old bar mitzvah. of the abyssinian baptist church and my girl saying to a wide-eyed harlem congregation, "hello, i'm wati. i'm from indonesia."











the plane is somewhere halfway across the continent, and i'm wondering what we will be coming back to? to USC and ESL? to teaching? and learning? to an upcoming and unknown visa resolution, and possible marriage? to an unwanted war and a suffering economy? to living yet another year (now 20!) in LA, the isolating, freeway & fame-driven desert of self delusion, ambition, & greed. to our continual attempt at eeking out an acre of love on our bohemian hillside paradise – through our unlikely coupling of culture, age, and personality. to continuing a life of worry, trust, living in the present, not knowing whether to move from america, how to change, how to love, how to age, how to grow, when to fight, when to give in….


brooklyn, queens, staten island, the bronx. "new york, new york, it's a wonderful town." in just nineteen days we've seemed to have covered it all – life, love - past and present. christmas, new years. what's the year to bring? looking out the jet blue window, the horizon seems endlessly fragile and just out of reach.


-your ex and always new yawker,


gino cumeezi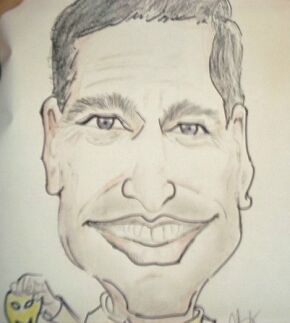 ---
---
---