ext. day
the bright, harsh constant sun of southern spain/northern africa´s andalucia. the snake-like, necromancer's sound of a solo arabic flute....
he's the fourth man squeezed into the back seat of a ramshackle taxi that won't go anywhere until it's more than jam-packed with sweating human flesh. he's just walked across the spanish-moroccan border, five kilometers south of ceuta, a dollop of spain still calling itself europe across the strait of gibraltar, but in all other ways, north africa. the fast ferry from algeciras was loaded with spanish day-trippers in their calf-length "pirates" and tommy helfigger t-shirts, but when he walked through the "salida", they were nowhere to be seen. like moroccan magic, they were all hoarded into their pretty blue and white tour busses like so many well-fed sheep, while he was the only customer left looking for a taxi in front of the ferry terminal.
"anyone want to share a taxi to the border?" he crooned, hoping to pull in a stray backpacker or fellow traveler to the moroccan "frontera". the local "tour operators", perhaps more accurately called hawkers or touts, mimicked him with their deep-throated moroccan accents. "enywon wan to share a texi to de bor-der". they all had a good laugh at his expense. "texi to de bor-der....?"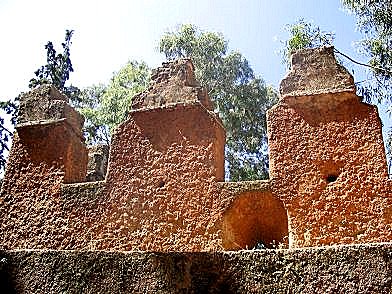 after twenty minutes of failing to find a single soul heading in his direction, and another ten of necessary haggling, he's recruited an unlicensed driver to drive him south for five euros. un peu de francais, un pocito de espanol, and he's found out from the arabic-speaking driver that the euro is worth a hundred and ten "dirham" in morocco. he has to walk across the border like he's seen the mexicans do at the tijuana-san ysidro U.S. border, and like he's done before at the israeli-egyptian border in the sinai. pulling a weathered green, vinyl bag on wheels with his right hand, and carrying his trusty black canvas back pack like a well-seasoned traveler, he meets a smiling, broken-toothed, ali, along the broken concrete footpath in no-man's land between the two national border patrols. ali is rail-thin, wears a torn red t-shirt, and seems to speak some version of french. he ventures a query.
"etes-vous....? va across la frontera?"
his mish mash of french-spanish-english is made even worse by the three weeks he's worked so hard on remembering his junior high school spanish, while trying to cover all of spanish andalucia in less than a month. he's hit two cities a day, by bus and train, making day trips from madrid to fortified segovia and palatial anranjuez,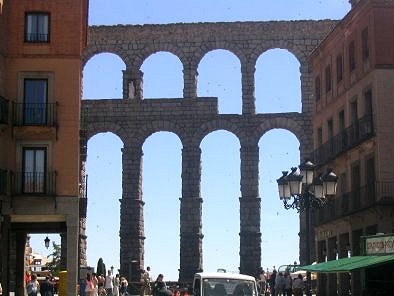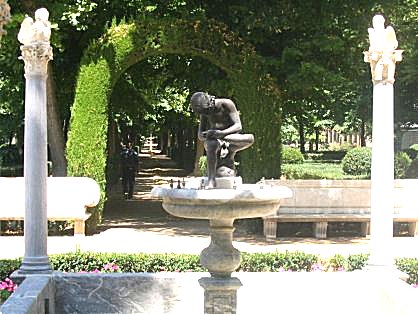 stopping in regal toledo for just two hours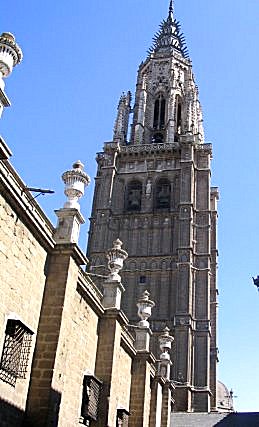 before he's back on the train for madrid.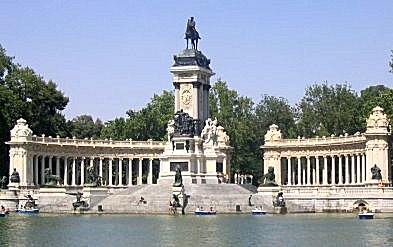 he's been to cordoba, the moorish capital of andalucia to see the red and white domed "mesquita" for five hours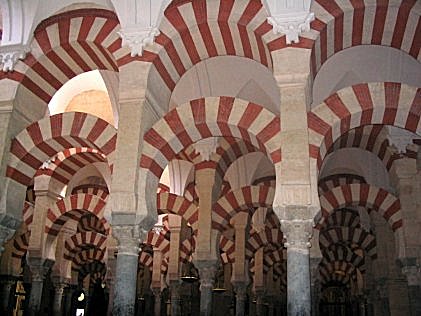 before hopping back on the fast train to sevilla.

unfortunately, he's lost his locker ticket somewhere in maimonades square,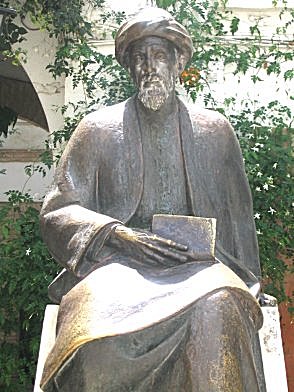 and it has the number sequence for reopening the sesame with all his belongings. not to worry, the spaniards are good and friendly people, and after showing his passport, the head train station clerk re-opens the locker for him, just in time for the train.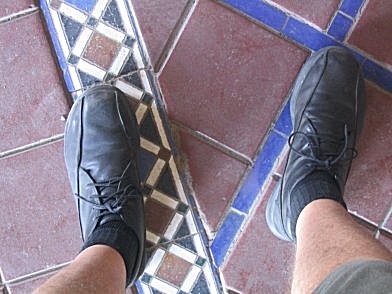 you might say he's a "hard" traveler, consuming culture, geography, history, food, and people as fast humanly possible. he'll tell you he's "loving it all, no favorites, just different", but the normal leisurely tourist or traveler would tell you he's possessed. no wonder he gets sick almost every trip he takes, despite his back pack full of antibiotics, vitamins, herbs, and homeopathic remedies.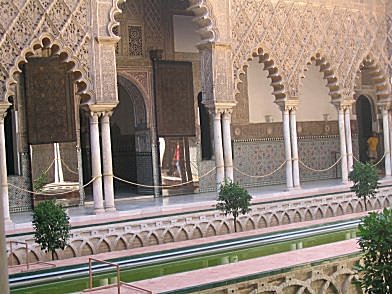 after sevilla, it's five days in granada to present the paper that brought him here, "changing the world one story at a time". it's a little over the top, "changing the world" and all, but what the hell, it's a lot more lively and entertaining than "the statistical analysis of learners with disabilities using english as a second language in the tertiary school system in ireland". he's the only "theatre guy" at the conference, and he owes it to them to provide a little zip and entertainment to the drudgery. so he's recruited a former student , now managing a guest house in the "albaicin", the arab quarter of granada,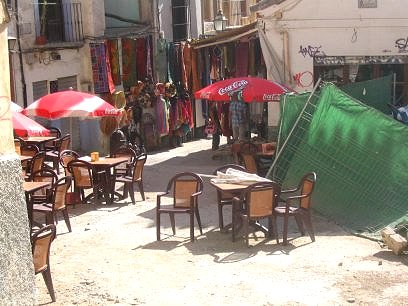 and "the beef" has done a carnival-like rap in the lobby of the faculty of education to recruit some bored bodies for his paper. the improvised rap instantly turns more than a few heads and awakens the yawners, and "the beef" helps him fill the house. he's promised himself not to read his paper - hell, they can read it themselves online – so he just wings it for twenty minutes, telling them that education is not only about acquiring and regurgitating knowledge, doing and presenting research, but it's also about teaching and effecting students, giving them the tools and courage to discover themselves, to follow their own dreams and voices, and to become creative, alive, contributing adults and human beings. you see, he's been a clown, a poet, and a truth-seeker for half a century, had cancer and almost died, so he's on a crusade to change the world one story at a time. a crusade (not king george's) to connect people through their stories, to see what they all have in common, rather than to see their differences. a crusade to connect people through their authentic, autobiographical histories, rather than to separate and sort themselves by nations, religions, fears, and labels. oh, and one more thing, the courage that it takes to overcome fears and limitations, that goes for teachers too – the conference goers out in the audience – and for himself too, the big mouth up front.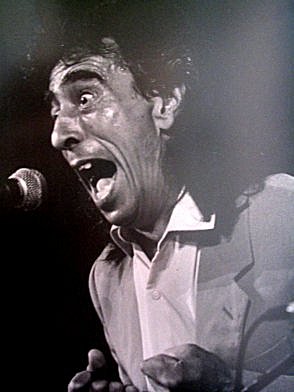 and before he's done, after the twenty minutes of improvised buffoonery and truth-telling, one of the conference attendees, a soft-spoken, but bright-eyed australian bloke named martin, raises his hand with "a story" he'd like to share. "i'm going to change my life right now. i´m going to leave my job in sydney and move my family to granada. i want them all to learn to speak spanish." "alright, martin," he says enthusiastically. "when did you decide this?" "right now," martin smiles from under his shy beard. "during your paper." he smiles back. proof positive. changing the world one story at a time.
but that was a fortnight ago. since then he's been to the "playa" in tiny san jose near almeria, one of the almost "pueblas blancas" of andalucia. a perpetually sunny beach on the "cabo de gata", head of the cat, in the very south east corner of spain's costa del sol. he's caught his mandatory, phlegmy flu in granada, and he's carrying it around from the albaicin to the universidad in granada, to the playas of san jose, to the tapas bars of malaga, to the duende bull ring of ordonez in ronda, to the sleazy port of algeciras, and now to – morocco.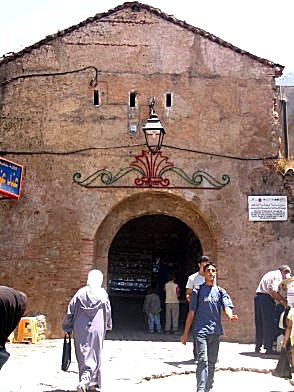 you see, he's had this inexplicable feeling about getting to morocco. to chefchaouen, to be exact. he's not absolutely sure why, but with all three of his security blankets -- job, marriage and home – all a bit wet or shaky, he just knows there's something waiting there for him. no matter that after nineteen years at the same university, he's up for a promotion that promises no financial gain, just dismissal if he doesn't pass his peer review. no matter that after fifty-four years of bachelorhood, finally breaking down and marrying a young thai girl from chiang mai, that she's now in thailand talking about "independence" (from him) while he's living day to day in andalucia. no matter that after thirteen years in his rented "home" in poor man paradise near echo park in LA, that his landlady has him on the short leash of a sixty day notice any time she wants to cash in on the over-swollen housing bubble eager to burst. no matter. somehow, he just knows that the answers he's searching for are lying at the foot of a mountain in chefchaouen, morocco. chefchaouen… the magnetic city in the north african marijuana mountains of berber morocco. chefchaouen… the katmandu of the dawn of twenty first century at the tip of the african continent. chefchaouen… the one magical-mystical place in the universe calling his name.
he's had to walk back over to the moroccan border authorities and stand in line next to the rows of waiting-to-be-inspected automobiles, because he didn't get his passport stamped in the right place. he's had to trudge with his none-too-sturdy bags back over the pitted and neglected concrete, past the chain link fence, and show his papers to the french-speaking moroccans in uniform. lucky for him, after careful inspection, he's gotten the necessary certification, and smiling ali has waited for him with the last seat in the afore-mentioned local taxi. there's a heavy-set moroccan woman in the front passenger seat, two serious looking moroccan men in the left side and middle of the rear seat, and one remaining seat on the right rear - for skinny ali and not-so-skinny, himself. he gestures to ali, "we're both supposed to get into the one seat?" "oui," ali nods generously. he asks ali one last time, "chefchaouen?" ali nods toothlessly in the affirmative, "...ouan." he squeezes into the ramshackle taxi; ali slides his butt as far forward on the seat as possible, and they head south into morocco…