sweet sounds of kerala-la-la-la
july 22, 2006
fort cochin, india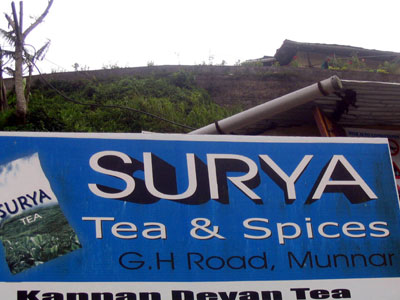 chai! chai! chai-ya!
chai! chai! chai-ya!
payam! payam! paiy----am!
chai! chai! chai-ya!
chai! chai! chai-ya!
biryiani! biryiani! biryiiii-ani!
chai! chai! chai-ya!
tati vellum! tati vellum! vellum! vellum! vellum!
chai! chai! chai-ya!
always chai! chai! chai-ya! the cacophony of the shoeless, mundi-clad hawkers' voices singing and barking from the platform, as the train pulls into every railway station in southern india. chai - the omni-present sweet indian tea with milk and sugar. first thing in the morning, chai! chai! chai-ya! the whole day long. tati vellum (mis-spelled, i'm sure) - colllld water. payam (or pajzam) - banana, babies. biryiana - the rice vegetable mix, better than trader joe's frozen. chai! chai! chai-ya!
------------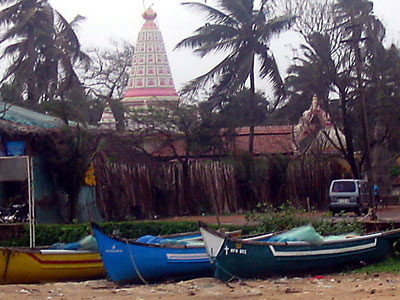 the sound of freedom, living north of kerala in ramshackle, laid back goan beach towns: anjuna, baga, vagator, arampol. the ocean crashing against the empty monsoon-drenched beaches. the local goans and the local ex-pats living in harmony in the wet green off season. hordes of middle-aged western-raised men and women turned on, tuned in, and dropped out of euro, capitalistic culture. no longer having to answer identity-bending questions like "whataya do?" "how old are you?" "what's that you're wearing?" "how much did it cost?" we heard and read about it in the 60s, and it's still here. spirituality and its pursuit. here in south india. ayurveda, yoga, tantra, astrology, palmistry, psychic healing, henna, sitar, tabla................
om digga digga di. digga digga di. digga di. digga di. om digga digga di. digga di digga di. om digga digga di digga digga di……… you get the point.
everything is long and beautiful here. very beautiful and very very lonnnnnnnnnnng. amidst the poverty and squalor, so many rich, ornate and beautiful things. taking so much time, training and endurance. the dance. the music. the food. the language. every state has its own culture. a little like america (USA, not south), but even more so. at least the dallas, texan can understand the brooklyn, new yawker can understand the fargo, north dakotan. sort of. not here. the speaker of marathi can't understand the goan or the keralan or the andra pradeshian or the rajastani or the what do i really know anyway. at least the divisions here in india were made with cultural and language sensitivity. not like what the hell we/they did in iraq after WW2. shia? sunni? kurd? what the fuck's that? just carve the place up. here's the map, ready..... go.
go, georgie, go!!!!!!
but "digga" this: a true dramatization of the mix of the sacred with the profane.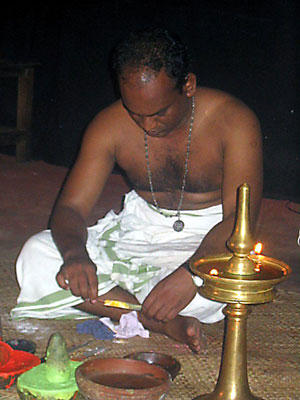 i'm sitting in this fantastic "kathakali" cultural center here in fort cochin, half way down the kerala coast of south india. i've decided to be lazy for a few days, to get out of the bustle of over-crowded indian towns and cities, and i've found this brand spanking new guest house whose owners are teak and rosewood importers and exporters. and for some crazy reason, they've decided to convert the top floor of their new mini-mansion with polished red granite floors and collector-quality colonial teak and rosewood furniture pieces into a guest house/home stay. and they've hired the top hotel manager in town away from the mildewed, mafia-run "elite" guest house on the main backpacker route; they're hired warm-hearted, smiling-eyed, radesh, who caters to my every need and cooks me not only breakfast, but fresh fish from the local chinese fish-net market, and who extends himself to me and the others guests (although i'm the only one for a while) with as much graciousness and softness and warmth as south india can muster. and even though my bowel can't much hold anything down, radesh's warm smiling eyes and his warm brown skin make everything relaxed and comfortable and safe. and the owners invite me down to their home whenever they're around, so why should i leave this little fort cochin with the portugues-dutch-british-hindu-muslim mix of all india right here in one melting pot....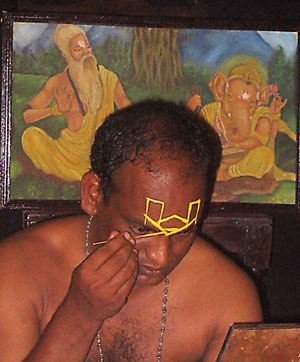 om digga digga di, digga di digga di.............
and i'm sitting here in the kathakali cultural center, a few days after i've seen one of the great theatre presentations in my life. having watched an hour and a half of makeup and greasepaint applied fastidiously in front of a rapt audience, transforming ordinary looking indian devotees of kathakali into wild-looking, green, yellow, and red-painted, white-bearded demons and gods and petty human beings. followed by a lecture demonstration showing us "goras" the immense technical skill of the actors with their wild eye movements and their precise hand and fingers articulation, and their magnificent manipulation of costume, and........ then the actual performance -- a condensation of an 8 hour story-play cycle reduced for us honkies to about an hour, with frenetic tabla and soft indian drum accompanying the actors in their over-the-top depiction of the inevitable fall and recovery of our lost, loving, and pitiable reincarnated souls. a performance one has to see to believe (can i help bring them to LA? anyone?)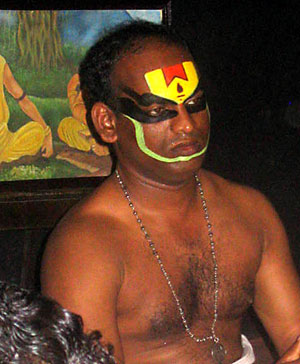 om digga digga di, digga di digga di.............
so i'm sitting there again on night 2 and then on night 3, for the late night, post-kathakali musical performances. i'm only 1 of 2 people in the audience, or 1 of 4 on another night, but who cares, i'm the lucky one. and the director of the center is a bare barrel-chested, white lungi-wearing shaman-artiste who only lives and breathes for the survival and transmission of south indian kerala culture. and after he introduces and explains each "raga" (scale, there are over 3600!)), he is the most rapt audience member of us all, sitting down front on the thin mats, tapping his hands and fingers to the raga rhythms: om digga digga di, digga di, shouting, "sha-vas" every time one of the musicians does a particularly brilliant improvised turn....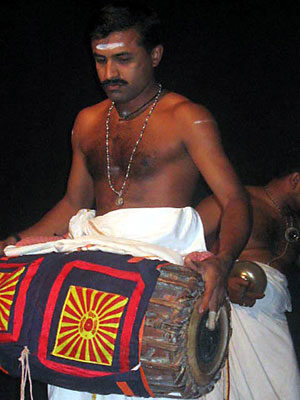 om digga digga di, digga di digga di.............
and i'm sitting there last night, and the master has just introduced the bamboo flute player and the veenu player (giant pre-cursor of the sitar) and the tabla player and the other drum player and we are waiting in the silence of the moment before -- and a high squealing, repetitive sound interrupts our perfect anticipation. but nobody does anything to quiet the sound. something keeps squealing and squealing, in a regular living breathing rhythm. like the sound of what? a rat? rats? yes. unmistakable. rats. and the musicians settle and concentrate and nod at each other and begin. and the rats never do stop. but the players play over and above the squealing and they're amplified, so only in between ragas do we hear the high-pitched squealing of, yes, musical rats, for sure - in this old bamboo building that soon will be torn down because fort cochin is "developing" a new, "more commercial" project so the kathakali center must "re-locate" and find a new home, and even i give them 500 bonus rupees to help....
om digga digga di, digga di digga di.............
and in the midst of this most ancient and beautiful and hypnotic and trance-like flute and veenu and tabla music, this indian raga music of ravi shankar and all his less famous colleagues and disciples, amidst this ancient sacred music of hindu india, the wonderful baby rats are squealing and singing, because the musicians don't want to disturb the new-born babies because if they do, the infant sentient rats will die, so the musicians just let them stay there in the walls and the roof tops, moving around during the concert, first to the left, then to the right, so that the sacred and the profane are both singing at us, to us, the audience, and the whole thing is a marvelous, delicious curry-paste musical stew here in sweet sounding keralalalalala.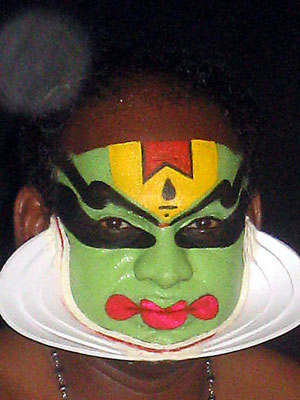 om digga digga di, digga di digga di.............
and then i'm walking home after the town has been drenched in another monsoonic deluge. and the streets are glittering in diamond relief from the wet, damp night, and suddenly i'm struck by the most beautiful sound of all.
quiet.
and it is.
and i'm sure that i know that THIS IS the sound of one hand clapping.
and in the poverty and muck and beauty of southern india,
i am content......
love may not be ALL there is,
but look for it and choose it; it's pretty damn good.
luv and namaste,
india.erique