October 27, 2014
Padangbai, Bali, Indonesia
There is a word in Bahasa Indonesia, my wife's native language, for "trust". It's "percaya" (pronounced "perchaya").
It's a beautiful, complicated, difficult word. Beautiful because it means that you invest your faith and belief in someone other than yourself. Complicated because it involves a letting go of control, a risk, and a reliance on, once again, someone other than yourself; you could, and probably will, at times, be hurt and disappointed. And difficult because it can be painful to take such a blind, or educated, leap of faith into the unknown.
And this is not just about love and marriage. It's about any kind of relationship where you choose to to become reliant/dependent on someone else. A man. A woman. A God. A partner.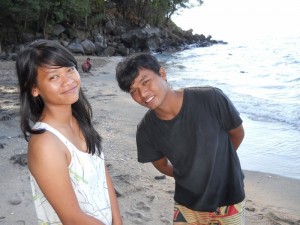 In 2012 when I first bought property in Padangbai, Indonesia, a small rural fishing village from where I write, on the undeveloped East Coast of the Islands of the Gods, I was stuck in a hotel room with gout, a painful joint disease that attacked my left big toe in such a way that I could barely walk. My wife had left me there in a pique from one of our frequent tiffs, and she had flown off to see her family in Sumatra. A thousand mile away. To quote Mr. Dylan, I felt like I was "stuck inside of Mobile with the Memphis Blues again,"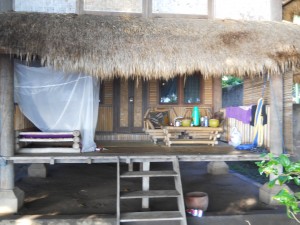 But "life… a funny thang", as ex-heavyweight champ, Sonny Liston, famously said. Just when I was trapped in my small corner room with a ceiling fan in the Balinese outback, barely "mobile", physically and emotionally vulnerable, the world suddenly seemed to shift.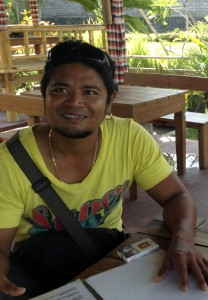 A compactly built, gregariously brown-skinned local man, "brother" of the hotel proprietor, who I had told I was looking "to buy some land", seriously started courting me. He would come to my room and talk. Tell me about the timely investment opportunity right here in Padangbai, that was right on the cusp of exploding with international development. He would put me on the back of his motorbike and drive me up and around the hills, the coast, the beach, through the small local village named "Mimba". He would show me the "Korean hotel property", the "Frenchman's property" with the luxury pool adjacent to the unpopulated black sand beach, and he would show me little plots of land that I might actually afford to buy and develop.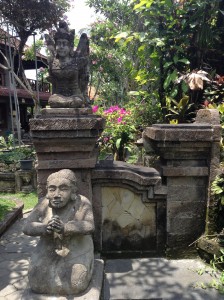 Now I had come on this trip to Bali with the idea and intention of buying a little piece of paradise. My father had recently left me a modest inheritance and I had actually pictured it: a small, but lovely, 2 unit "villa" in the middle of a rice paddy field, with a warm water, overflow pool. It had to have a pool because it's so fucking hot here, and it had to have a 2nd unit so that friends could come and visit.
Well, after a few days with Made, there it was, in the middle of a verdant coconut and banana tree field, way off the beaten path, down a winding dirt road…. 2 concrete structures, overgrown and seemingly abandoned. "What's with these?" I asked my entrepreneurial development chauffeur. "Dese very nice, Tru-les. Owner need to sell. Son have AIDS. Need money for hospital. Buy very cheap."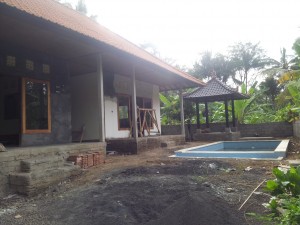 Riiiight. I mean, sure, here I was with immobilizing gout, on the back of a motorbike of some stranger I just met three days ago, with my wife a 1000 miles away in Sumatra. I can't speak or understand the language, and I am supposed to believe this abandoned building-AIDS story? I mean, what kind of simpleton do you think I am?
Three days later, I'm sitting in the local "notariis" office, with a bag filled with 800 MILLION Indonesian Rupiah. I feel like a local gangster. I have a partner, Pak Putu, who has filled the bag with 400 MILLION Rupiah of his own, and we're signing documents to to become 50-50 partners in this new villa in the middle of the banana and coconut field. He's the village chief, speaks no English, but turns out to be the husband of the corner room with fan hotel proprietor. He likes me and my style. He has money and influence in town. I've really been set up perfectly.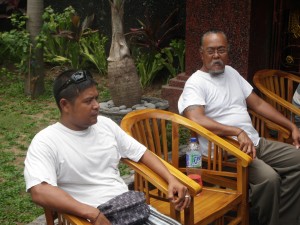 Made and Pak Putu are waiting for my signature. I can't understand a word of the agreement written entirely in Bahasa Indonesian. I do know that "boulays" (foreigners) can't legally own Indonesian property. Made will act as my "sponsor". He will do all the paperwork, all the the land clearances and permissions. He will build the pool, finish the property with a contractor, and in 6 months, Christmas, 2012, I can come back and stay in my custom-made dream villa.
Am I crazy? I have no legal advice other than the few "boulay" attorneys I've spoken to over the phone in the costly "developed" areas of the island like Kuta and Seminyak. But these dudes cost way too much money. I've read their many "be forewarned" documents about Westerners owning or leasing land in Bali. It IS done all the time, sometimes successfully, other times not. I've done as much research and fretting and possible; they're waiting for my signature.
I look them straight in the eye one more time and… I sign.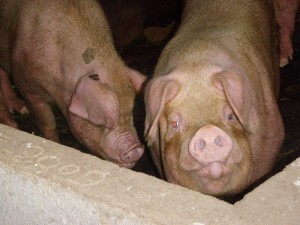 "Percaya". It comes down to that, right? I either trust these men or I don't. Any contract is only as good as the hand shake behind it. The rest is all legal rigamaroll. There is no good, rational reason I should be entering this deal. Life trapped me in a corner room with gout, I was solicited, and somehow, as if by fate or magic or whatever you believe in, I am now the proud land owner of an abandoned 2 box concrete hideout in the middle of the equatorial jungle.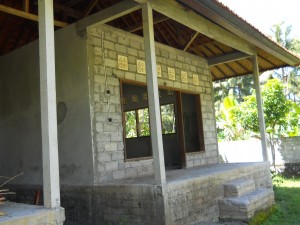 But I believe there is magic in Bali. Where I met my wife…. who does come back to sign the papers with me a few days later. And where I am partners with the village chief and a former body builder-scuba diver-pimp…. who both think I'm some sort of Western marketing medicine man who, with my iPad, digital voice recorder, and jam box, can help develop this back water fishing village into the next hot spot in Bali.
And now…. it's over 2 years later…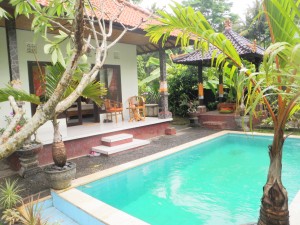 …and I'm happily installed in the "White House", one of the 2 bamboo-ceiling, beautifully-finished bungalows (the other is called the Green House), where I dissolve into the sweltering jungle 6 times a day in my aqua-tiled swimming pool that I built for 80 million Rupiah, where I scan my succulent garden like a living tropical museum as I happily simplify my life into a walking water meditation, that washes all LaLa's land constant worry and anxiety from my overbearing, type A aging shoulders, and where I now actually sit, gratefully typing the next chapter of my life.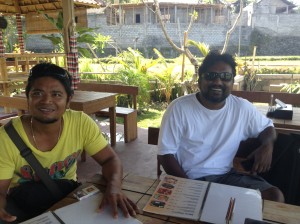 I now have a 3rd partner, Mister Vishallan from Malaysia and Singapore, who has joined me and Made, on a new development project, a 6 unit hotel-villa, down the road from the coconut and banana villa, that should be finished by next July, and where we hope to lure happy divers who come to Padangbai from all over the world for the magic and the coral of Bali's developing and burgeoning East Coast.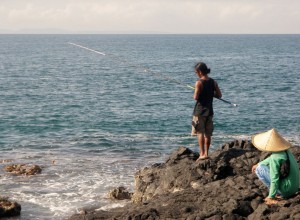 C'mon over. Eat, Pray, Love. No, fuck that!
Percaya.
Bali, 2014, Chapter 3, "Percaya"