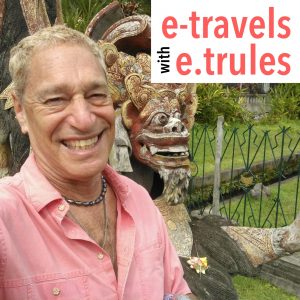 Ahoy there, Maties!  
I know, I know! No recent posts on this blog site.
That's because all my recent efforts have gone into creating my new travel podcast, also with the same name as this blog: "e-travels with e. trules".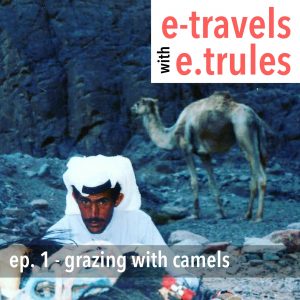 It's been a really exciting and educational journey to learn a new craft in a new medium, podcasting!
I'd like to give a shout out to the people who both inspired me and helped me take this new turn in the artistic road.
First, thanks to Jonathan Munoz Proulx, my former USC student, who when he came to my reading at Beyond Baroque in 2015, exclaimed,
"Trules, it's so much more exciting to HEAR you read your travel stories than to just read them ourselves. You have to do a PODCAST!"
And the rest is history…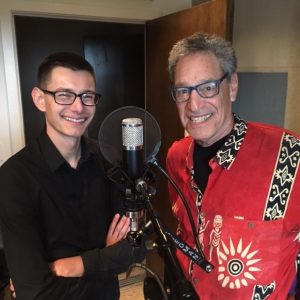 Next, thanks to my university, USC, for giving me a Capstone grant to create the podcast, and to my USC faculty colleague, Professor Phil Allen, who generously offered me the USC School of Dramatic Arts sound studio, along with the expertise of his freshman sound design students. One, Alysha Bermudez, has been with me on the project since Day One, and as you will hear, she has done a fantastic job in creating immersive sound designs for each travelogue that take the listener directly into the sensorial and aural travel experience of the actual country and place. Working right along with Alysha is my composer, Amanda Yamate, who creates beautiful music for each travelogue that sounds and feels just like the place of origin. Together I think they really elevate my writing and storyteller and take it an an altogether different level.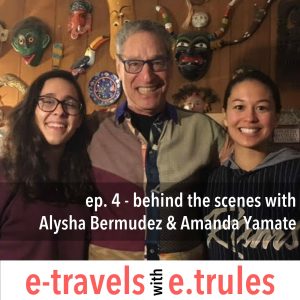 Next, I'd like to thank Harry Duran at FullCast, and host of his own podcast, Podcast Junkies, who has held my hand and taught me all the technology needed to launch and market a new podcast.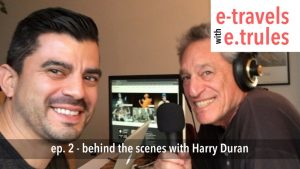 Finally, I'd like to thank YOU, my readers, who I now hope will be come my listeners!
Please go HERE
to find the PODCAST on my home page, along with all the Episodes to date. Take a listen! Start with the Welcome Episode, then listen to the odd-numbered episodes for the Travelogues themselves, and to the even-numbered episodes for the "Behind the Scenes" interviews with friends, fellow travelers, and podcasters.
Please SUBSCRIBE on iTunes, and go HERE, to a simple to follow video, if you need help. Also please RATE and REVIEW the podcast on iTunes.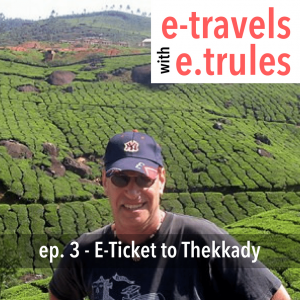 That's about it for now. Go to the podcast and listen with a good pair of ear buds or head phones.

Enjoy and…

Happy Trails……………………
Go the the PODCAST: "e-travels with e. trules"